Find The The Love of Your Life
Denver Dating Coach • San Francisco Dating Coach • Online Dating Coach
You Deserve a Life Full of Love
Authentic connection, built on love, respect, friendship, and fun, is one of the cornerstones of a happy, fulfilling life. But, as you well know if you've been on the dating scene for any length of time, the actual process of finding that special person and then creating a high-quality relationship can be challenging.
The modern dating scene can be difficult to navigate, and fraught with obstacles. Should you be looking for love through online dating sites, or through in-person opportunities? When you meet someone promising, how do you cultivate chemistry and connection and turn first dates into seconds? How do you attract the type of person you're looking for, (and stop attracting the wrong types of people?) How do you handle the "ghosts," "zombies," and "breadcrumbers" you might find along the way?
But most importantly, how do you nurture and grow the type of healthy, long-term connection that you're longing for, without wasting months or years of your life going down disappointing dead ends?
Good news: You don't have to figure all of these things out on your own. With a professional dating coach by your side, you can navigate all of these potential pitfalls with confidence and style.
Here's the Secret: Dating is a "Growth Opportunity."
At Growing Self, our approach to dating coaching is a little different. We don't just help you pull together your online dating profile, teach you how to "converse charismatically," increase your attractor-factors, and spot relationship warning signs quickly so that you can get better results. Though we do all that and more, we take things a little deeper because our dating coaches are also relationship experts with training and experience as couples counselors and therapists.
We believe that you have an amazing opportunity to learn about yourself, and evolve as a person on your quest for true love. We'll help you identify your old patterns in relationships and any inner obstacles that may be getting in your way, so that you can be your very best self in a healthy new relationship — and get the love, respect and commitment that you deserve.
Answers to Your Dating Coaching Questions
Wondering how, exactly, a professional online dating coach can help you get different results? It starts with a journey of self-discovery, where you learn more about yourself and the previously unknown obstacles that have been getting in the way of your success. Armed with that knowledge, you can then work with your coach to try new, more effective strategies.
If you're considering dating coaching, an understandable question is how much dating coaching costs. First, it's helpful to understand the true value that expert dating coaching can bring to your life. At Growing Self, expert dating coaching is also as affordable as it is meaningful and effective. Learn more about our rates for dating coaching (and whether you can use your insurance!)
Wondering why you should enlist the support of a personal dating coach, or keep working at things on your own? Here are a few thought provoking questions to help you determine if you could benefit from working with a professional dating coach, or if you're already heading in the right direction.
If you've never done any type of coaching before, you might be a little nervous about what to expect in your very first meeting. Learn more about what types of questions your dating coach will ask, and how your consultation meeting will unfold...
Meet Some Of Our Dating Coaches
Markie Keelan, M.A., LPCC, CSPC
Dynamic Life, Career & Dating Coach
Markie is a Master's level coach with a positive, compassionate attitude towards personal growth. She has years of experience in helping people create real and lasting change in their lives and performing at the highest level of their potential. Listen to Markie's great dating advice on the "New Rules For Dating" podcast with Dr. Helen Fisher.
Jessica Small, M.A., LMFT
Dating and Relationship Coach
Jessica is a dating coach, as well as a licensed marriage and family therapist, with many years of experience in helping people create happy, healthy, and authentic relationships. She has extensive experience in helping people create healthy relationships, and can help you get self-awareness, clarity, confidence, and empowerment to connect with your soul-mate.
Georgiana Spradling, PhD, MFT
Emotional Intelligence Coach - Dating Coach
Dr. Georgiana is a wise and experienced marriage and family therapist, emotional intelligence coach, and dating coach. Fluent in English, Spanish and French, she takes an international and multicultural approach to healthy relationships. Her straightforward, direct style will help you cut through the clutter and create a focused and effective plan to find your ideal partner.
Free Dating Advice, For You
Feeling connected to your cultural identity can be an important part of life satisfaction for many people, and it can be a large part of one's identity as a whole. Online therapist, Josephine M., shares more here…
The online dating world can be a jungle. Online therapist and dating coach Jessica Small, M.A., LMFT shares her top tips for online dating. From creating your profile, avoiding red flags and disappointment, to setting yourself up for success!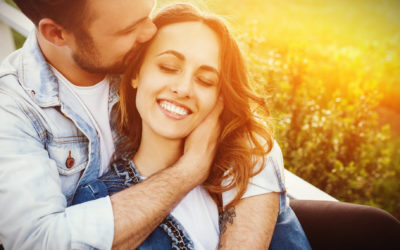 Persistent feelings of insecurity can tank a relationship. Learn how to strengthen your sense of trust and the emotional security of your partnership, on this edition of the Love, Happiness and Success Podcast.