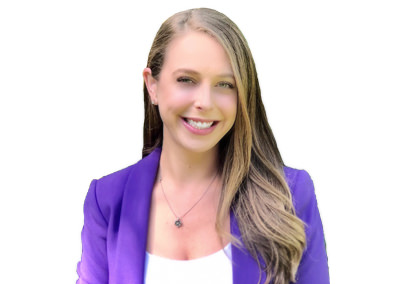 Dr. Rachel D.
DMFT, LMFT
Expert Care for Your Relationship
Meet Dr. Rachel: a relationship coach and marriage and family therapist with a warm personality and productive approach. She helps you and your partner restore trust, deepen intimacy, reconnect emotionally, and transform your shared life through the healing power of a healthy partnership.
"Dr. Rachel is knowledgeable and professional. She is helping us make real progress on our relationship challenges and we are stronger as a team because of her guidance".
- Couples Counseling Client
Therapist Overview
Hello, I'm Rachel. My clients would describe my style as warm, empathetic, direct, kind, and honest. I use evidence-based approaches and techniques to help guide your work by asking thought-provoking questions while simultaneously being sensitive and supportive of your needs and goals.
I have a great deal of experience in helping people make positive changes in many different areas: 
attaining important personal or self-improvement goals,
Regardless of the type of growth we're working towards, I strongly believe in providing you with 'homework' to focus on between sessions to use that time to practice and strengthen areas discussed in previous sessions. The more you practice skills or approaches that we discuss during sessions, the more quickly you will create changes in your life.
Relationship Coaching and Couples Counseling
I specialize in relationships. I have a master's degree in counseling and a doctorate in marriage and family therapy. Additionally, I have completed levels one and two of Gottman Method training, and I am a trained facilitator in the collaborative process of divorce, and licensed as a marriage and family therapist in Florida. I am also qualified to provide supervision to marriage and family therapist candidates in the state of Florida.
I also work with couples to help them create healthier, better balanced, and more fulfilling relationships. Small changes often lead to bigger changes, and I work with couples to identify growth areas and build skills to strengthen those areas.
Frequently, couples seek counseling or coaching to improve the quality and effectiveness of communication. I enjoy equipping couples with the skills to help them better navigate conversations and reduce conflict.
If you are in the process of healing from infidelity, I can help you restore trust after betrayal, work through anger, and move forward into a secure new chapter together.
In the event that a couple is contemplating separation, I create a safe environment where we can explore options and determine the best course of action for the relationship. I use the Gottman Method, motivational interviewing, and a solution-focused orientation to help couples achieve growth and clarity in their relationships.
In addition to my work with clients, I am also qualified to provide supervision to marriage and family therapist candidates in the state of Florida.
Relationship Coaching for Individuals
I primarily assist people with creating improvements in their relationships, which leads to a more satisfactory life experience. When working with individual clients, I typically work with people looking to improve their relationships or process breakups, divorces, and separations. I draw upon narrative, cognitive-behavioral, and solution-focused coaching techniques to elicit change with individual clients effectively.
Family Therapy and Parent Coaching
I work with families to help relatives coexist more peacefully and effectively through parent coaching or relationship coaching. Family conflict is an extremely common issue, and I use narrative techniques and a solution-focused orientation to help families cultivate more amicable dynamics. Often, families experience conflict due to ineffective communication skills, a life-changing event (such as a job loss), or normative life cycle change events (such as adolescents going off to college).
When families face more serious issues such as mental health concerns, I can provide family therapy services to residents of Florida. Couples and family therapy can be beneficial for relationships impacted by challenging issues, such as a family member living with a mental or physical illness. Therapy can benefit families struggling with these issues because it offers a safe space to process events and model effective communication.
Learn more about the differences between therapy and coaching, and which approach is right for you.
Individual Therapy Online and in Florida
In addition to my work as a relationship coach, as a Licensed Marriage and Family Therapist (LMFT), I can provide therapy to residents of Florida. I know how difficult it can be to seek counseling, and I appreciate the opportunity to help individuals address their struggles with anxiety or depression.
About Me
I received my bachelor of arts (B.A.), with a major in psychology, from the University of Miami. I also earned my master of science in education (M.S.Ed), concentrating on marriage and family therapy, from the University of Miami. I most recently achieved my doctorate in marriage and family therapy (DMFT) from Nova Southeastern University. I maintained a 4.0 GPA throughout my doctoral studies and was invited to join Delta Kappa, the International Marriage and Family Therapy Honor Society.
I have completed levels one and two of Gottman Method training, am a trained facilitator in the collaborative divorce process, and a Florida qualified supervisor.
I have a pet dog named Snickers, who sometimes accompanies me to my in-office sessions (and is always around during my video sessions!). I love to travel and try new foods. Living in Florida, I don't get to hike very often, but I love to do so when I can! I am an avid reader and often reading one book for pleasure and one therapy-related book at any given time.
Schedule with Dr. Rachel