Growing Self
Counseling & Coaching
For Love, Happiness & Success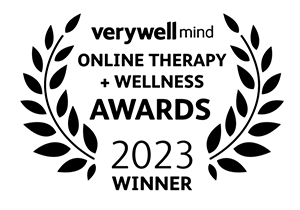 "This has been one of the best decisions of my life. I love that my counselor has a flexible schedule and offers weekend sessions. And I absolutely love that I can speak with her in the comfort of my home. It is so much easier to be vulnerable when you feel safe. I love sharing my experience with my friends and family."
I've personally seen eight therapists throughout my life and, as a couple, we've been to two therapists together. This was the first time I felt welcomed as a unit, as a couple.
"So Relieved! My Growing Self therapist has experience specifically in the areas we need help, and was able to quickly establish a rapport with my fiance who is uncomfortable around therapists due to negative experiences with others in the past. We are finally in the right place."
"I got more out of the first fifteen minutes of talking with you than I have from spending two years in therapy."
"We have tried working with other marriage counselors before but this feels way more productive. I love it that our marriage counselor gives us worksheets and homework assignments to do between our sessions."
"When we decided to seek counseling to help our relationship, we researched several counselors–both in person and online based. We are SO grateful we found and chose a Growing Self therapist!"
"I have tried counseling for about a decade with various counselors and have never been able to connect or grow with them. [My Growing Self Coach] has connected with me genuinely and helped me grow more in two meetings then several therapists have done in a decade."
"Before we sought help from you, I was at a point in my relationship that I had really given up on hope… you have changed our lives."
"Had a great experience – seriously one of the best things I've ever done!"
"What a Difference. We have had two experiences with counselors to date, the first as a couple, the second a 1:1 for me. Both experiences were terrible, the first comically so. Conversely, [our Growing Self marriage counselor] listened, communicated clearly, was able to take what we had shared and use it as the basis to suggest an approach that seemed based on our situation rather than pre-determined, and demonstrated sensitivity and emotional intelligence."
"I am incredibly grateful I sought her help. Her 'coaching' style, as opposed to traditional talk therapy, helped me immensely… our work together truly transformed my life."
"We tell all of our friends and family about our experience with Growing Self and how much we recommend it. It really exceeded our expectations and has been a crucial part in our life."
"It has been life changing already. I was on the fence for a long time and let myself get too far past where I should have originally seen someone. I wish I had done this sooner."
What We Do Is Different
If you're a growth-oriented person on a mission to experience more love, happiness, and success in your life… you're in the right place.
Personal growth — either individually or as a couple — is the path to creating everything you want and deserve: Healthy relationships, authentic happiness, professional success, and the clarity and confidence to move forward fearlessly into the life you want.

Growing Self is a collective of highly effective therapists, marriage counselors, and career counselors specializing in positive, productive counseling and coaching for Love, Happiness, and Success. What we do is different.
Our experts have rare specializations in either relationships or career development, and combine evidence-based therapeutic strategies with powerful coaching modalities to help you achieve real and lasting positive change in the most precious and important parts of your life.

If you're ready to grow, we can help you make it happen.
We Are Personal Growth Experts
What Our Clients Say About Life Coaching and Therapy With Us
"Amazing. She is so helpful and open and insightful. She's kind and helps us show compassion to each other."
Amanda S.
- Marriage Counseling Client
"She is clearly grounded and has a very practical approach. She asks the right questions and she has a great sense of humor. She is intelligent and sophisticated and that is important to us. We both feel we are in good hands with someone who can understand the realities of our situation especi...
Brenda F.
- Family Therapy Client
"She's [Georgi] empathetic, caring and we both feel supported by her."
Georgi C.
- Marriage Counseling Client
"She [Dr. Georgiana] is taking us through historical issues that need to be addressed before we can move forward. She tells it straight, "If things continue like this you can expect xyz…" She encourages and makes a case for decisions to be made, to take a stand and follow through."
Georgiana S.
- Couples Counseling Client
"She has provided us with reassurance and helpful techniques to use."
Jenna P.
- Couples Therapy Client
"Our time with Josephine has been great so far. It gives us time set aside to talk and be listened to! We are learning great ways to embrace our differences and how to better communicate."
Josephine M.
- Couples Counseling Client
Ready to Grow?
Begin With a Free Consultation.
Personalized Coaching and Counseling
Our highly-skilled counselors can provide evidence-based therapy, or action-oriented coaching, depending on your unique needs.
Not sure which approach is right for you? Learn about the differences between counseling vs coaching, or have a free consultation to discuss your hopes and options.
Positive, productive Growth Work
Not all therapists are the same, and not all therapy is productive.
Our experts are true specialists in healthy relationships, personal growth, and professional development. Working with us is priceless… but also affordable. Learn about our rates, and if we can help you use your insurance.
Easy and convenient
Our practice is based in Denver, Colorado. We provide Denver marriage counseling, therapy in Denver, Denver life coach services, Denver career counseling, Denver dating coaching, (and have a Broomfield office locations too).
We also provide online therapy, online couples counseling, online premarital counseling, online life coach, and online career coach services across the US and around the world.
Morning, evening, and weekend appointments are available. Our easy, flexible options to make this work for you.
Start Today
Questions? Get in touch! Growing Self is a vibrant group private practice; a collective of caring humans, all here for you. No algorithms here!
To learn more or connect with one of our experts, we invite you to call, email, or text our office anytime. Or, just book your free consultation meeting with the expert of your choice.
We're happy to talk with you, and we always answer. Contact us, anytime.
"Hi, I'm Dr. Lisa Marie Bobby, founder and clinical director of Growing Self Counseling and Coaching. For over a decade, I've been helping people all over the world create Love, Happiness, and Success through positive, effective couples counseling, and therapy, and empowering life and career coaching.

I'm so pleased to be able to help you, too. I'm glad you found us!

This practice, and our website, are devoted to your growth and wellbeing. We have loads of free information and actionable advice that you can start using today to create positive changes in yourself, your relationships, your career, and your life.

You can cruise over to our blog to listen to some podcasts, read some articles, and get expert, actionable advice from our experts.

If you want to get growing, you can help yourself to some of our free online activities like our "how healthy is your relationship quiz," our "ten year plan" activity, or sign up for an online class.

If you're wondering what we're up to here, you can learn more about me, about Growing Self, and meet our team on our "About Growing Self' page.

If you're thinking about getting involved in therapy or coaching you can browse through the informational articles I put together for you (below) to educate yourself about your options.

Or, if the time is right, you can schedule a free consultation with one of the experts on our team to talk about your situation, your hopes and goals, and how we can help you grow.

If you have any questions about our services, or would like to connect with any of our amazing clinicians personally (including me) please contact us anytime. We're all here for you.

With gratitude,
Dr. Lisa Marie Bobby

P.S., If you're a therapist interested in professional growth, and support for healthy helpers, we are here for you too. Learn more about our private practice opportunities and resources for clinicians.
Connect With Us

Begin your journey of growth by requesting a free consultation meeting with the expert of your choice.
Not sure who to work with? Let us know your hopes and goals. We'll provide customized recommendations about which experts would be a good fit, and help you schedule your first free consultation.