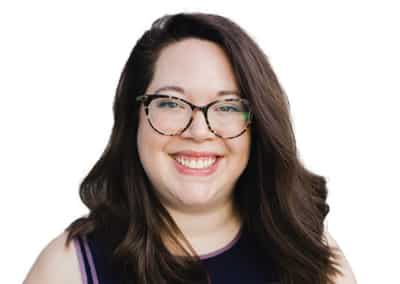 Dr. Paige M.
PhD, LMFT
Kind, Encouraging & Insightful
"Paige has been great. Thus far she has been a good listener. We've started to talk about some strategies/tactics to help with what I am dealing with and I feel really good about that. I leave each session feeling refreshed and much better than I felt before speaking with her."
- Individual Therapy Client

Therapist Overview
Hello! I am Dr. Paige, a licensed therapist and coach with years of experience providing compassionate, trauma-informed care to individuals and partners from diverse backgrounds. I believe that mental health and well-being are deeply influenced by systems of power and oppression, and I strive to attend to the ways in which marginalization impacts my clients' lives and challenges.
I take a collaborative approach to therapy and coaching, working with you to identify your strengths and develop strategies for navigating difficult situations and systems. Through evidence-based practices, I help you find ways to cope with and challenge oppressive systems, while also supporting you in your personal growth and healing.
Whether you're struggling with anxiety, depression, relationship issues, or other challenges, I am committed to creating a safe and supportive space for you to explore your concerns and work towards positive change. I believe everyone has the capacity for growth and healing, and I am dedicated to helping you achieve your goals and live a more fulfilling, empowered life.
I can provide psychotherapy to residents of Colorado or Michigan, and coaching to individuals located across the U.S. and internationally.
Couples Counseling & Couples Coaching
In my work with couples, I recognize that relationship issues are often complex and multifaceted. I take a collaborative approach to couples therapy and relationship coaching, working with both partners to understand the dynamics at play and identify areas where change is needed. I believe that all partners play a role in creating problems within a relationship, so it's essential that both partners take accountability and work together towards resolution.
I understand that working through challenges and being vulnerable with a partner can be uncomfortable and challenging. That's why I provide a safe and supportive space where couples can feel heard and validated as they navigate difficult conversations and work towards strengthening their connection. Whether you're dealing with communication issues, trust issues, or other concerns, I work with you to develop skills and strategies that can help you build a stronger, more resilient relationship.
Through a combination of evidence-based approaches and personalized coaching, I help couples identify patterns of behavior that may be contributing to their problems and explore new ways of relating to each other. 
I can help you and your partner/s in a variety of areas, including:
Improving communication and conflict resolution skills

Rebuilding emotional connection and intimacy

Establishing healthy boundaries and addressing codependency issues

Addressing issues related to sexual intimacy, desire discrepancy, and sexual dysfunction

Navigating cultural differences and finding ways to honor each partner's cultural identity

Coping with life transitions such as moving in together, retirement, empty nest syndrome, and illness

Addressing power dynamics in the relationship, such as issues related to money and decision-making

Working together to identify shared life goals and create a plan to achieve them.

Preparing for marriage by addressing potential challenges and setting goals in premarital counseling

Learning to navigate consensual non-monogamous and polyamorous relationships

LGBT and queer relationships: Addressing unique challenges and concerns related to gender and sexual identity

Navigating the decision to separate or divorce
Dating Coaching
If you're tired of dating the wrong people or keep finding yourself in the same frustrating patterns of relationship, dating coaching could be for you. As a dating coach, I can help you navigate the dating world with confidence and clarity. Together, we can figure out what kind of relationship you truly want and identify any potential red flags that may be preventing you from finding a fulfilling relationship (if that sounds interesting to you, check out my podcast episode on red flags in relationships). Whether you're struggling with self-esteem, communication, or intimacy, I can provide guidance and tools to help you overcome these challenges.
In our coaching sessions, I'll help you identify any patterns in your dating history that may be holding you back and work with you to break free from these patterns. We'll focus on building your confidence and self-worth so that you can approach dating from a place of strength and authenticity. Together, we'll explore strategies for being vulnerable and creating meaningful connections with potential partners.
If you're ready to find the relationship you've been longing for, I'm here to help you every step of the way.
Breakup and Divorce Recovery
Breaking up or going through a divorce is a unique type of grief that requires special attention and care. We have innate processes that help us develop deep connections and attachments with others, and when these connections are severed, it can be incredibly difficult to cope.
In our breakup or divorce recovery sessions, I'll help you navigate the complex emotions that come with the end of a relationship. We'll work together to grieve the loss of the relationship and determine if there's a chance for reconciliation or if it's time to move on. I'll provide a safe and supportive space for you to process your feelings, explore your options, and make decisions that are in line with your values and goals.
If you have children, we'll work on developing a plan for co-parenting that puts their needs first. We'll explore strategies for effective communication, boundary-setting, and conflict resolution that can help you maintain a positive relationship with your ex-partner for the sake of your children.
Together, we'll also explore how you can find meaning and purpose in the aftermath of a breakup or divorce. We'll work on identifying any patterns or behaviors that may have contributed to the end of the relationship and finding lessons that can help you have healthier relationships in the future.
If you're struggling with a breakup or divorce, know that you don't have to go through it alone. I'm here to help you heal and move forward with hope and resilience.
Individual Therapy
I am a feminist therapist who provides therapy services for individuals living in Colorado and Michigan. Life can be challenging, and we often struggle to be kind to ourselves during difficult times when we need kindness the most. In my work with individuals, I view myself as a compassionate cheerleader, providing support and guidance as my clients navigate their challenges at their own pace.
Using evidence-based practices, such as Mindful Self-Compassion, as well as a feminist lens, I help clients cultivate greater self-awareness and self-acceptance, allowing them to be less critical and more compassionate towards themselves. By building skills for self-compassion and self-regulation, clients are better able to make progress towards their goals and values.
Whether you're dealing with anxiety, depression, trauma, or other challenges, I provide a safe and non-judgmental space where you can explore your concerns and develop strategies for moving forward. Together, we will work collaboratively to find solutions that align with your unique needs and goals.
I believe that therapy is a partnership, and I am dedicated to working with you to create a supportive, empowering environment where you can thrive. As your therapist, I will be there to encourage you, celebrate your successes, and help you overcome obstacles along the way. Together, we will work towards your desired outcomes at a pace that feels comfortable and sustainable for you.
I can help you work through:
Managing symptoms of anxiety and depression

Building self-esteem and self-acceptance

Overcoming body image issues

Developing a healthy relationship with food

Learning mindfulness practices to increase self-awareness and emotional regulation

Healing from past trauma and develop coping skills

Coping with life transitions such as job loss, relocation, and divorce

Exploring patterns in past relationships and learning healthy relationship skills

Examining identity-related issues such as sexuality, gender identity, and cultural identity

Developing healthy coping skills for managing stress

Coping with the loss of a loved one or other significant losses
Trauma Therapy
Our brain's primary job is to keep us alive, and it adapts in response to terrifying or threatening experiences. Trauma can leave us feeling stuck in survival mode, even when we're in safe situations, and can impact our ability to regulate our emotions and make meaningful decisions. 
As a therapist certified in Narrative Exposure Therapy for complex trauma, I am trained to help clients work through the impacts of trauma in a safe and compassionate way. Trauma therapy typically involves three phases: learning to regulate emotions and soothe trauma responses, processing traumatic memories and experiences, and setting goals for a meaningful life.
In our work together, I will be there to support you as you learn to navigate and heal from the impacts of trauma. We'll work together to develop strategies for regulating your emotions and soothing trauma responses, allowing you to move towards a sense of safety and stability. We'll also explore and process traumatic experiences in a safe and supportive environment, allowing you to find meaning and hope as you move forward.
At its core, trauma therapy is a compassionate process. I will be there to help you understand what you're experiencing, validate your feelings, and develop hope to live the life you want. I can provide trauma therapy to clients located in the states of Colorado and Michigan.
I can help with trauma stemming from:
Childhood abuse and neglect

Relationships with parents or caregivers that didn't meet emotional needs

Sexual and dating violence

Toxic relationships whether, with family, friends, or romantic partners

Any other difficult situations
More About Me
I completed my masters and doctoral degrees in Couple and Family Therapy at Kansas State University, and I am a Licensed Marriage and Family Therapist in the states of Colorado and Michigan. In addition to my clinical work, I have enjoyed teaching human sexuality and family violence classes, as well as publishing in peer-reviewed journals on trauma and sexuality. I am also an American Association of Marriage and Family Therapy-approved clinical supervision, helping to train the next generation of relationship counselors.
I grew up in the mountains and missed them so much when I was in Kansas for graduate school, so I'm so happy I now get to go hiking every week! I would describe my aesthetic as cozy, so I love reading, baking, sweaters, and tea. My husband and I are also passionate about food and traveling to other places to try new food. 
Schedule with Paige