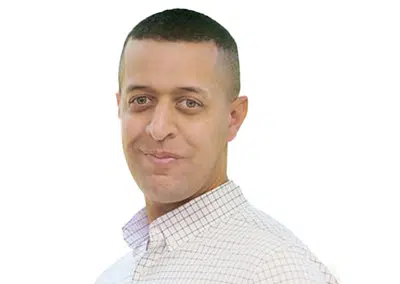 Jesse S.
M.S., LMFT
Approachable, Direct & Warm
Meet Jesse: A licensed marriage and family therapist with a military background who excels at creating a judgment-free environment where growth and healing flourish. He helps individuals and couples create deeper, more satisfying relationships, navigate major life transitions, manage stress, and lead happier, more fulfilling lives.
Overview
Hi, I'm Jesse. I'm a Licensed Marriage and Family Therapist, and I'm passionate about helping you create healthy, satisfying relationships, deepen your self-love and self-awareness, and make positive changes that improve every corner of your life.
Whether we work together in couples counseling, premarital counseling, individual therapy, or through life coaching or dating coaching, my hope is that you'll gain valuable insight into your strengths and your obstacles, and newfound confidence in your power to create the life you want for yourself.
I've been told I'm warm and easy to talk to, and that my willingness to offer direct feedback is refreshing. It's important to me that my clients notice their wins, and I'll make sure we celebrate them. I offer a safe space free of judgment, where you can be open about anything you're struggling with and we can work through it, together.
I have training in several modalities that I draw on when working with clients. These include Internal Family Systems (IFS), Gottman Method Couples Therapy, and Pragmatic / Experiential Therapy for Couples (PET-C).
I am licensed to practice therapy in Texas and Florida, however I am happy to provide relationship coaching or life coaching service to you no matter where in the world you are.
Safe, Supportive Couples Counseling and Coaching
When your relationship is secure, you can go out into the world and face any challenge, knowing you have a solid foundation of love and support under your feet.
If we work together in couples counseling, this is the kind of relationship I'll help you and your partner create. To get there, we'll identify and break through patterns that may be keeping you stuck — like power struggles, communication breakdowns, or unproductive conflict — and then replace them with new ways of relating that feel better for you both.
I believe that couples choose each other for a reason, and that with the right approach, you can rekindle the spark that brought you together in the first place. I know that sometimes the damage and hurt of the past can feel insurmountable, but I've helped many couples heal their wounds, release resentment, and reconnect with deeper feelings of profound love and respect.
I have extensive experience supporting military families. As a service member myself, I understand the unique challenges of military relationships and how to overcome them.
Not every relationship requires counseling. Sometimes a coaching approach works best. Together we can learn about the things that make a relationship really shine and work to incorporate those skills into your existing relationship.
Helping Couples Heal After Infidelity
Infidelity is one of the most painful things anyone can experience, and many couples need support working through the stages of affair recovery together. Fortunately, it is entirely possible to heal after infidelity, and even to rebuild your relationship to be stronger and more satisfying than ever before.
I offer an infidelity treatment plan that focuses on re-establishing emotional safety, deepening understanding and empathy, and rebuilding trust. Through this process, I've helped many couples find healing and hope.
Powerful Premarital Counseling
Premarital counseling lays the groundwork for a great marriage, and I love working with couples at this important, joyful stage of their relationship. I'll help you and your partner address any lingering issues, find agreement around big life decisions, and learn the relationship skills that will keep your connection healthy and strong for years to come.
Thoughtful, Effective Dating Coaching
Dating is how we sow the seeds for a healthy, loving relationship, and the way you approach that process matters.
It's very common to feel stressed around dating. Many people have had bad experiences in the past that make dating feel scary in the present — rather than the fun, life-affirming process that it can be. Others find themselves repeating the same painful dating experiences again and again, and feel unsure about how to create a healthy, enduring relationship with someone who can meet their emotional needs.
Dating can be a challenge, but real love is worth all the effort. As your dating coach, I'll help you get clear about what you're looking for in a relationship, and the best way to go about finding it, with someone who treats you with the care you deserve. I'll be your strategist, your cheerleader, and your anchor of support as you embark on the quest for a healthy, loving partnership.
Individual Counseling and Coaching
In addition to my work with couples, I love working closely with individuals in counseling and in life coaching.
Through therapy, I can help you manage mild anxiety or depression, reduce stress, navigate major transitions, recover from loss or heartbreak, and explore big questions about who you are and what's most important to you. Therapy is best suited for someone who is looking to improve their mental health and help them in working through a diagnosed condition. I also use my specialized training as a marriage and family therapist to help individuals improve their relationships, whether they're single or partnered.
Through coaching, we can work to find clarity about your goals, and then make a plan of action for achieving them. I'll be there to support you every step of the way as you make your most important dreams a reality. The goals of coaching are to take you as you are now and focus on how we can improve your life to reach the next level, whether that be professionally or in your personal life.
Learn more about the differences between therapy and coaching, and which approach is right for you.
About Me
Before I became a marriage and family therapist, I spent nearly 20 years as a medic in the U.S. Army. Through that experience, I learned that service to others is what I value the most, and I continue to serve in the Army National Guard.
My time working with injured soldiers has shown me that there are many wounds we can't see, and that internal healing can be just as essential and life-changing as external healing. I've worked with military families through the VA, children at a youth center, and countless individuals and couples through private practice. If you think we'd be a good fit, I'd love to meet you.
Schedule With Jesse