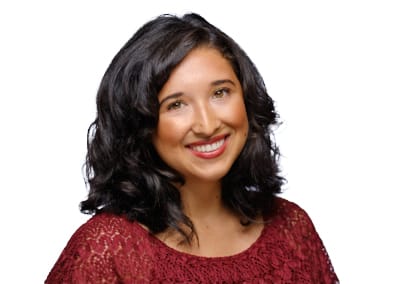 Josephine M.
M.S., LMFT
Supportive Growth for Individuals and Couples
"I would highly recommend her. She's a great listener, offers a kind perspective, and makes you feel warm and welcomed."
- Individual Therapy Client
Therapist Overview
Whether I'm working with you individually, or with your partner for couples counseling, the focus of our work together will be on healthy relationships: With others, and with yourself.
I believe that the relationships we have with ourselves and others are at the heart of health and happiness. Because relationships are so important, it is my passion and my pleasure to help you reach harmony and happiness in whatever relationship you're seeking to improve — be it with yourself, or with others.
My approach is warm, open, direct, and — above all — kind. If you and I work together, my number one priority is to have you feel emotionally safe with me so that you can be authentic and open. If our work together in counseling and coaching is to be successful, you need to feel safe to say whatever is on your mind and in your heart, knowing I hold unconditional positive regard for you no matter what.
I've been told by past clients that they can feel my warmth and kindness when working with me, and that they felt able to establish rapport quickly and build a strong sense of connection. I bring a fresh perspective to your issues, as well as a unique thought process that helps you uncover blind-spots and achieve new insights. Plus, I'm a determined person, and will never give up in my quest to help you achieve your goals. 
Past clients have shared that they appreciated my positivity and the humor I bring to our relationship. (I believe that personal growth can be fun!)  
Here's more about me, and how I can help you.
Couples Therapy, Marriage Counseling, Premarital Counseling & Relationship Coaching
In my work with couples, I use a positive, strengths-based approach, helping you both harness your personal strengths to reach your goals as a couple. I use evidence-based frameworks for therapy clients, and draw upon these approaches in my work with coaching clients.
I primarily work from the Psychobiological Approach to Couples Therapy (PACT) and the Gottman Method, blending attachment theory, human physiology, and actionable skills and tools. My approach is also influenced by Emotionally Focused Therapy (EFT) and Internal Family Systems (IFS), and I draw from this collection of modalities to create a tailored approach based on each individual couple or client. I use this blend to increase one's awareness and insight, and then turn that into actionable change. Helping couples build stronger, more loving relationships is one of the great joys of my career. If you're seeking to make positive changes in your relationship, here are some common areas I can help you with: 
Communication skills 

Conflict resolution 

Feeling more secure and connected 

Healing your relationship after infidelity

Issues related to intimacy and sexuality 

Parenting together

Increasing your emotional connection

Establishing shared values and goals

Discernment counseling or coaching
I have also helped couples have more productive communication and joint decision making around finances, and I have experience working with couples in cross-cultural and interracial relationships. I truly love walking beside couples as they navigate the unique challenges these relationships can present, learning how to embrace their differences—and use them to their advantage. 
Along with identity exploration and intersectionality issues, I feel my background and training helps me work from a common understanding of the Black, Indigenous, and People of Color (BIPOC) experience in America, and the many systemic and socialization factors that can impact individuals and couples where one or both people is a BIPOC.
I also thoroughly enjoy doing premarital counseling with couples seeking to establish a strong foundation for a happy, healthy marriage. I work from my own structured, premarital program that I have designed based on my training and experience, and infuse core skills and topics that I view as critically important to address to set a marriage up for success. I am very flexible and collaborative in my approach, and am happy to tailor my premarital program based on each individual couple's needs, timeframe, and interests. 
I strive to create a space for partners to show up authentically and openly to share their hopes, worries, and dreams for their marriage, and to begin this next stage of their relationship on the same page and feeling confident they have the tools to handle what life brings. Premarital counseling topics with me include but are not limited to: finances, maintaining your friendship and intimacy, communication, and more.
I start successful marriage counseling and couples therapy by helping couples address their issues directly, and helping each person feel heard and respected. I do not "take sides," but rather help you both get to the heart of the matter, see things from each other's perspective, and identify core values or beliefs that you may not be aware are contributing to conflict or hurt. My approach is also effective and direct; I'll be guiding you through exercises and teaching you new skills that you'll practice in our sessions so you can do them outside of sessions too. 
I will help you to identify the negative patterns your relationship may be vulnerable to, and the places you get stuck in conflict. I'll work alongside you as you learn how to break out of unhelpful patterns and bring positive, healthy communication back into your interactions. Throughout our work, couples can experience less conflict, or know how to "fight better," where discussions end with being productive and safe. My couples often leave me having a more defined couple identity or story, and can recognize how family history or other external influences shape(d) them. 
Individual Therapy and Life Coaching
If you're seeking to get involved in life coaching or therapy for yourself, you create meaningful change with a variety of concerns. If we work together through individual therapy, I can help you with issues surrounding gender, sexual, racial or ethnic identity, anxiety, depression, trauma, self-esteem, grief, and body image. Through life coaching, I can help you accomplish your personal growth goals, address relational issues, and navigate life transitions. 
In my work with body image, self-love, and body liberation, I work from an anti-diet, intuitive eating and Health at Every Size framework. For my individual therapy and coaching clients, I have found using elements of attachment theory, solution-focused, and mindfulness practices to be very helpful in reaching our goals. 
I am a Licensed Marriage and Family Therapist in the state of Colorado. I am able to provide counseling services to clients located in the state of Colorado and coaching services to clients located anywhere. Learn more about the differences between therapy and coaching, and which approach is right for you.
Individual Therapy and Coaching for Better Relationships
Many people, whether they're single or partnered, seek out individual therapy or coaching because they want to improve their relationships. My background as a couples counselor makes me a great fit to help you achieve that goal. I can help you with managing emotions, so that you can respond with intention in difficult interactions, rather than reacting from a place of anger or fear. I can also help you set and maintain boundaries in relationships, so you can have healthy connections with others while taking care of you. 
Culturally Competent Counseling and Coaching
I feel my understanding of my own background, plus my academic and clinical training (specifically around multicultural considerations and discrimination), helps me work with clients who have confusion around their identity and cultural background. It also helps me better understand how culture, race, and many other factors intersect and impact us as a whole. 
I understand what it is like to be confused about 'what box to check' on applications, what it's like to experience microaggressions, and how it feels to be stereotyped. I also understand the power of representation and working with someone who looks like you or shares a cultural identity.
What Working with Me Is Like
To help you learn and grow, I'll meet and accept you where you are, and together, we'll uncover and harness your existing strengths to help you achieve your goals. I can help you gain deeper insight into yourself, how you came to be shaped into the person you are today, and what drives your behaviors, thoughts, and emotions. 
After gaining a deeper awareness of who you already are, we'll work together to use realistic strategies to reach attainable goals that feel good for you. I'll walk beside you at your own pace, confident that you're the ultimate expert on yourself.
My hope is that, through our work together, you'll feel heard, seen, accepted and valued for who you truly are. This acceptance, paradoxically, becomes the foundation for real and lasting change. We'll also talk about skills, strategies, and new ideas as you're ready: I want you to have powerful, positive tools you can use and practice in your daily life, as well as a more compassionate relationship with yourself and others.
About Me
I received my master of science degree in Human Development and Family Studies with a concentration in Marriage and Family Therapy at Colorado State University, and my bachelor of arts degree in Psychology from Oklahoma State University (Go Pokes!!). I have completed levels 1 and 2 of Gottman Method training for couples therapy, and in my work as a therapist have worked with couples, families, and individuals around issues such as: depression, anxiety, and other mental health diagnoses, trauma processing/recovery, communication, infidelity, parenting, stress management, post-partum anxiety and depression, body image, sexuality issues (LGBTQ inclusive and sensitive), and I have also worked extensively with adolescents.
I completed my master's thesis on racial discrimination and its harmful effects on the body, and as someone who identifies as a Puerto Rican and Mexican woman, being a culturally competent and sensitive therapist is a core value of mine. I take joy in working with clients of all backgrounds, but I also prize the unique alliance and perspective I can provide when working with clients of color. I have a passion for social justice and working to dismantle the systemic "isms," in and outside of the office.
I live with my partner Hayden, and our big black lab, Morrison! I love to cook all different cuisines of food, read, and watch movies. I also enjoy painting, dancing and martial arts, as well as listening to podcasts and going to concerts.
I look forward to meeting with you through online video.
Schedule with Josephine