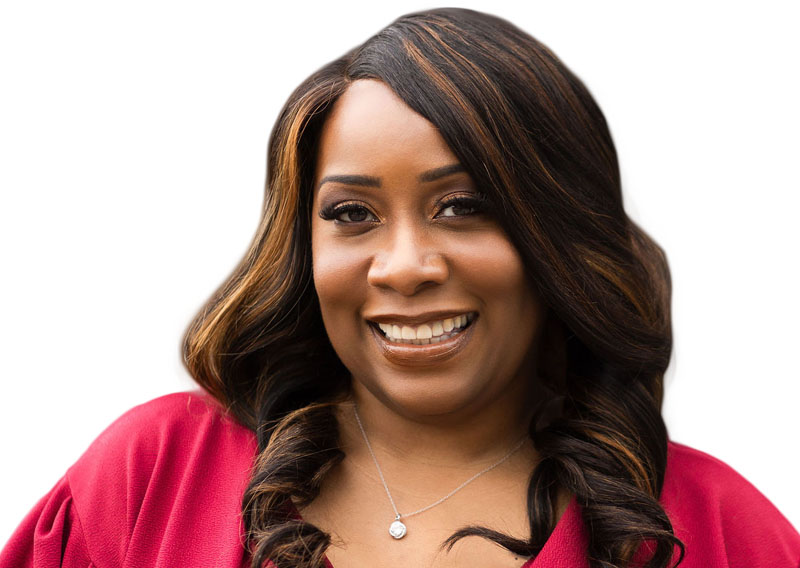 Renelle N.
M.S., LMFT, CST
Love In & Out of the Bedroom
"Not only was Renelle a great personality fit for us, her intelligence and experience in the areas we need really came through along with her approach as a teacher as much as a therapist – all the things we are looking for."
- Couples Counseling Client
Therapist Overview
Hey Hey! My name is Renelle. I am a licensed marriage and family therapist (LMFT) in both Wisconsin and Arizona as well as a certified sex therapist (CST). Are you ready to explore, enhance, and get the education you desire to improve your relationship in and out of the bedroom? I would love to partner with you on this journey.
I can provide therapy services to clients located in both Wisconsin and Arizona and coaching services to clients located anywhere in the U.S. and internationally located.
About My Approach
My scope of practice is to support those needing clarity on what brings them peace, connection, and pleasure. My mission is to assist you in better advocating for your needs in committed relationships and heal from trauma caused by instability in those relationships. I create a space where you can be transparent and vulnerable about your concerns and in doing this, I can support you and your partner in fostering both growth and understanding.
My approach is holistic; I can help you build awareness to create a healthy mind, body, and spirit, allowing you to be your best authentic self in all areas of your life! I have an eclectic approach and draw on evidence-based approaches, such as emotionally focused couples therapy, solution-focused therapy, mindfulness-based cognitive behavioral therapy, and Gottman Method therapy to help you create change. I am an expert on the material but not on your life. I can share with you tools, information, and a new way of engaging and being. I then empower you to decide what works best for you, your situation, or your relationship.
My clients love my no-nonsense approach, non-judgmental tone, and art of reframing without discounting your experience. I don't yuck anyone's yum and welcome all relationships and conversations. If this sounds like what you're looking for, please continue reading to learn more about the specific areas I can help you with!
Sex Therapy
I have been a certified sex therapist with The American Association of Sexuality Educators Counselors and Therapists (AASECT) since 2015. To obtain this specialization, I have completed academic coursework in sexuality education (covering general knowledge of sexual concerns), completed training on effectively providing sex therapy (specifically where there is a psychosexual disorder diagnosis), and completed supervision with an AASECT certified supervisor of sex therapy. I also received extensive sex education training at "A Woman's Touch Sexuality Resource Center" and have attended various courses and conferences to fine-tune my clinical knowledge and skills around sexual enhancements and novelties to assist individuals of various mobilities and development.
Do you and your partner feel like two ships that pass in the night? Distant lovers in the same bed? Or do you have a hard time discussing your intimate needs or desires? If this sounds familiar to you – I can help!
In today's world of family life, work, and stress, it's easy to feel disconnected in our relationships, especially when it comes to intimacy and sex. When your emotional or intimate needs are not met in your relationship, you may notice other symptoms can develop, exacerbating the feeling of dissatisfaction you may already be experiencing. For example, we know that over time avoiding sex can potentially lead to resentment, withdrawal, sadness, and insecurity.
Sex therapy is a form of talk therapy that can address your relationship's relational, emotional, and psycho-social aspects, which can influence the sexual experience between you and your partner. As an AASECT certified sex therapist and a licensed marriage & family therapist (with extensive experience in treating individuals and couples with sexual concerns), I am mindful and aware of the scope of sexuality and how it can affect your life. I create a safe place to discuss sexual concerns without judgment, shame, or embarrassment. The goal of sex therapy is to help people move past physical and emotional challenges to have a satisfying and pleasurable life in and out of the bedroom.
I believe that a fulfilling sex life is healthy and natural, and physical and emotional intimacy are an essential part of your well-being. I would like to partner with you to reframe your challenges and create a plan for a sustainable relationship that includes: eroticism, communication, and intimacy.
Our work together could include: you and your partner reading assignments together, self-exploration, increasing self intimacy, journaling, and activities that assist you with connection (and getting out of your head and into your body for pleasure!). Together we will create a toolbox that contains tools for intimacy, safety, and trust and allow you and your partner to feel connected during the times sexual intercourse may not be an option or desired. We will discuss sexual history and your desired goals. Together we will create a consensual plan to get you and your partner back to liking and loving each other.
*Sex therapy does not include touch or watching graphic material.
I can help you address:
Low desire and desire mismatch
Pain and intercourse
Poor body image
Low sexual confidence
Performance anxiety
Menopause or postpartum sex
Sex after betrayal
BDSM, Kink, and fetishes
Good enough sex
Learning to talk the language of desire
Learning to be more vulnerable and open to sex
Increase feelings of intimacy and connectedness
It is normal to feel anxious about this type of appointment. Talking about sex can be a complex subject. I will make it as comfortable for you as possible, and we will go at a pace that you both feel comfortable with.
Couples Therapy & Relationship Coaching
Have you tried to enhance or repair your relationship on your own with little to no results?
Let me illuminate the path for you on this journey. I would love to partner with you both to create realistic goals and outcomes you both desire. Together we can identify the cycle of dysfunction and deconstruct it to reconstruct healthier patterns. I am an expert on the material, and you are the expert on your relationship. Together we can cultivate a plan to achieve your goals. Becoming more mindful of triggers and avoidance will assist us in awareness and ways to reframe your experience for my connection. I use tools from emotionally focused therapy (EFT) to improve attachment and bonding, and The Gottman Method couples therapy gives us the tools to disarm verbal communication and increase intimacy and respect.
Couples therapy or relationship coaching can include but is not limited to:
Discovering love languages
Deeper emotional and physical intimacy
Repair trust and safety
Learn the tools to fight fair
Conflict resolution
Explore cultural, societal, and family beliefs that may be contributing to resentment or withdrawal
Develop relationship expectations and roles
Communication styles and aspects of communication
Creating a sustainable, long term relationship
Premarital Counseling
Before you plan the wedding, make sure you prepare for marriage. These sessions start with a premarital assessment for you and your partner to become aware of your strengths and what areas may need more attention. Together we will identify areas to have further conversations around, such as expectations of roles, finances, monogamy, healthy communication, conflict resolution, and the keys to sustainable intimacy. I can equip you and your partner with the education and tools to ensure your marriage stays off auto-pilot and is one filled with love.
Affair Recovery Counseling & Coaching
Are you deciding to heal or leave after the discovery of an affair? Are you unsure how to move on after an affair, or how you can both love and trust one another again?
The discovery of an affair shatters your well-being and sense of reality. You question everything: yourself, the relationship, and the world as you thought you knew. I can assist. Through personal experience, years of education, and working with various couples, I have knowledge and expertise on what tools and conversations can help you in this healing journey.
In addition to my background as a marriage and family therapist and sex therapist, I am also a certified infidelity coach and completed my training at the Infidelity Recovery Institute in 2014. In completing this training program, I have developed extensive knowledge on treating betrayal and affairs in relationships. The combination of my education and over ten years of experience providing therapy and coaching to individuals and couples makes me an ideal guide to illuminate the path on your journey.
I assist couples committed to staying together, repairing, and reconnecting in their relationship to find a safe and non-judgemental space for honest and transparent conversations to reconstruct the new marriage or relationship. Conversely, if you are deciding if you should stay and heal or uncouple, healing is still needed. I can assist you with understanding the reality of the relationship and if it can or should be saved by looking at it objectively and with understanding. We will address the affair in all aspects (what it means to the betrayer and what it means to the hurt partner).
Some specific areas we will focus on include:
Improving conflict avoidant behavior
Discussing monogamy
Recreating friendship, empathy, and bonding
Understanding and support for the triggers of the affair
Understanding the different realities of the relationship
Creating a path back to mutual understanding and pleasure (and a healthy sex life)
I draw on emotionally focused therapy (EFT), an evidence-based model that can assist with betrayal. I also use techniques from cognitive-behavioral therapy (CBT) to help change distorted thinking and behavior patterns, along with other therapy models. There are several types of affairs (emotional affairs, cyber affairs, split self affairs, conflict/emotionally avoidant affairs). Together, we will identify the affair type that's occurred in your relationship and create goals to assist you on the journey back together.
There is no cookie-cutter approach to affair recovery; your relationship is different, and we will tailor a program that fits your relationship. I am so sorry that you are here and have experienced tremendous hurt; the good news is that there is hope. There is no magic to stop the pain or make it so it never happened; however, I can give you the tools for understanding your healing and what is needed to repair the relationship to feel positive about your next steps together.
Individual Therapy
Let the healing begin! You are the foundation for all relationships. The relationship you have with yourself sets the tone for all other relationships in your life. Self-awareness, love, and acceptance are the primary keys. Let me assist you in the journey of unraveling you.
Individual therapy can consist of :
Improve communication skills

Treatment of mild mental health concerns

Change negative and saturated narratives

Gain new awareness and insight

Make healthy choices

Stress Management

Anger Management
Together we will have an open and honest dialogue about what interrupts your peace and well-being. We will discover the thoughts, narratives, and behaviors that might be keeping you stuck in a negative cycle and unhelpful thought patterns. From there, we can create a plan to challenge and release them. Individual therapy offers you the ability to look more deeply into your life to find meaning, purpose, and release things that no longer align with your evolution.
I actively engage with you during the sessions with respect and solution-focused psychoeducation to discover your strengths, as well as your triggers and unhealed trauma.
My goal is to assist you in gaining the awareness and the skills necessary to heal with more ease, mindfulness, self-trust, and connection. I strive to design a treatment tailored to meet your needs. I draw from cognitive behavioral therapy, solution-focused therapy, and narrative therapy. My clients have reported that with these tools and non-judgemental space, they can find the insight needed to grow with consent and confidence.
I am able to provide therapy services to residents of Wisconsin and Arizona. Learn more about the differences between therapy and coaching, and which approach is right for you.
Individual Life Coaching
The map of improving yourself or relationships can be a unique journey. It can sometimes be beneficial to have a guide to partner with you on your journey. I offer an interactive process that assists you in evolving to your best self individually. I provide a safe space with guidance and support to bring out strengths and become more aware of thoughts or behaviors that might be hindering your progress. We will embark on a thought-provoking journey to discover strengths, setbacks, fears, and goals in a creative process.
My mission is to assist you in finding a path of balance, improving happiness, reconnection, and of course, pleasure in your life. I use some of the same tools and techniques as in therapy but in a way that lets you be in charge of what you need to assist you with your goals. I will assist you in discovering the path and steps to a better and more authentic you.
In our coaching work together, we may address:
Breakup recovery or divorce recovery

Reconnecting or discovering your sexual self

Creating the next chapter in your life

Communication and conflict resolution skills

Discovering love languages

Creating self intimacy and love maps
About Me
I was born and raised in Milwaukee, Wisconsin, the birthplace of Harley Davidson, Milwaukee Bucks, and known for cheese and beer. I graduated from Mount Mary College and went to the University of Wisconsin – Platteville for my master's in couples and family therapy. I found my love of working with couples at Aurora Family Marriage and Family Institute.
I love hip hop and classic R&B. I enjoy dancing, watching cartoons, classic movies, and comedies. Home Goods, TJ Maxx, and online shoe shopping are my safe place. I am an entertainer of my two cockatiels, who provide chirp therapy for me. I waste time by going down the rabbit hole of puppy TikTok videos or the dodo animal videos. I am a lifelong learner, and you can always catch me with the latest book or article about all things relationships and healing. I am a pleasure specialist and make sure my clients know that pleasure is their birthright!
Schedule with Renelle