Georgi Chizk, M.S., LAMFT
Nurturing Healthy Families & Happy Relationships

"Georgi saved me from a toxic relationship. I don't say this lightly when I say she nearly saved my life. She provided me strength, courage, dignity and validation to leave a toxic relationship. Georgi was working with us as a couple, yet very clearly cared about each of us as an individual, and was committed to our personal growth. Had it not been for Georgi, I would have likely lost myself in an abusive relationship, and never been able to give myself the dignity of leaving."
- Individual Counseling Client
Bentonville, AR Marriage Counselor | Bentonville, AR Therapist | Bentonville, AR Family Therapist | Online Therapy in Arkansas | Online Marriage Counseling in Arkansas
My name is Georgi and I am a marriage counselor and couples therapist first, and a family and individual therapist as well.  I am here to support you in creating a meaningful and lasting change in your relationship, your family, and in yourself.
I know that each person carries their own experiences, goals, and values, and I am here to honor those while partnering with you in this journey of therapy. My role is to provide a source of stability as you navigate the emotions that drive your experience. As your therapist, I strive to be genuine, empathetic, and collaborative in order to create a safe and supportive space for you to find meaning in your struggles, realize your self-worth, and cultivate healthy connections with the most important people in your life.  
Effective Therapy and Marriage Counseling in Bentonville, Arkansas
One thing to note: Due to unusual levels of regulation around therapists in Arkansas, I am restricted to providing therapy and marriage counseling in Arkansas.
I am available to meet with you in person in my Bentonville, Arkansas office for marriage counseling, couples therapy, premarital counseling, family therapy, and individual therapy.
I am able to provide these services to you online (online marriage counseling, online therapy) if you are a resident of Arkansas.
Marriage Counseling & Couples Therapy in Arkansas
I have worked with couples experiencing conflict, infidelity, work-related stress, parenting stress, and those who want to improve their communication skills. I am passionate about helping couples who feel disconnected, disappointed, dissatisfied, but long for more out of their relationship.
Whether it seems like your only interaction with your partner is conflict or you rarely interact at all, we will work together to create a more positive and meaningful connection.  I understand that when couples experience distress, it can feel overwhelming and sometimes hopeless. My passion is to bring hope back to your relationship by creating a space of safety and compassion.
Operating primarily from a research-based therapy model called Emotionally Focused Therapy, I aspire to give couples an opportunity to process through their personal experiences and construct feelings of trust and connectedness between one another.
I believe in gently challenging my clients towards their full potential, while also collaborating with them throughout the therapy process so that they can receive exactly what they need.
Family Therapy in Arkansas
Family life is affected by personal and relationship distress, but when things aren't working with your family it can also lead to even more distress in other areas of your life, creating a vicious cycle. I have worked with numerous families and children resolve issues related to discipline, academics, divorce and blended family adjustment, and some childhood trauma. Through this experience, I realize that creating a positive home-life is a team effort!  
Through various research-based activities and discussions, my goal is to help each family member feel valued and supported as we work together to form a more cohesive environment in your home. I will help you establish trust with one another, feel more confident as a parent, and discover your family's strengths so that you are satisfied personally, as a couple, and ultimately as a family.
Individual Therapy in Arkansas
I believe that every person deserves to feel worthy of love and life. I have worked with individuals experiencing anxiety, depression, grief, disabilities, and adjustment to various life transitions, and I have learned that having a positive relationship with yourself and others is important.  My hope for you is to feel empowered and supported as we work through your experience in order to cultivate more positive relationships that you deserve.
When treating individuals, I primarily use attachment-based therapy and mindfulness skills to establish meaningful connections, discover your self-worth, and build coping skills that can be used to manage stress. We will collaborate with one another to develop a treatment plan that best fits your personal goals and values, because I highly value your input and believe you have many strengths that can be used in our work together.
Ultimately, whether you're looking for growth and happiness in your relationship, your family, or in yourself, I believe that hope can be restored to anyone willing to trust the therapy process. Seeking therapy and choosing a therapist can feel disorienting. Whatever is bringing you here, I believe there is hope for change and a brighter future, and it would be my honor to be a part of your healing process today.
My Credentials and Experience
I received a B.S. in Psychology at Oklahoma State University, and a Masters of Science in Marriage and Family Therapy at East Carolina University. My research and clinical experiences include work with couple conflict and communication, infidelity, parenting, play therapy, childhood trauma, grief, self-esteem, as well as various mental health issues, such as anxiety and depression. I've enjoyed working with people from diverse walks of life and find that therapy can be used to learn from one another as we work toward achieving your goals.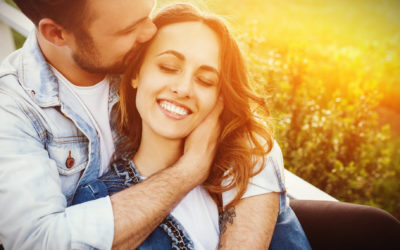 Persistent feelings of insecurity can tank a relationship. Learn how to strengthen your sense of trust and the emotional security of your partnership, on this edition of the Love, Happiness and Success Podcast.