Get The Scoop on Online Counseling and Coaching
Online Growth Work: Because your life is too big to put in a box.
Our online counseling clients are high-achieving, vibrant people living full and active lives. They are go-getters, on a quest to bring out the best in themselves, their relationships, their careers, and in the world around them. They want to live at their highest potential. Our job is to support them on their amazing journey — on their terms and on their time. And in service to our clients, we've been carried to some interesting places!
Our online clients are often buzzing around the world. I've personally had coaching sessions with people who were sitting on a beach watching the waves, in a gorgeous verdant park in California, overlooking a volcano in Guatemala, lounging around a pool in Mexico, on a balcony overlooking Manhattan at night, sipping coffee in a Spanish plaza, and once even on a chair lift! One of my colleagues recently shared that she had an incredibly powerful session with a person who was sitting on a dock at sunset, watching dolphins frolic in the water. Our clients are in the process of creating lives without limits, so that's where we meet them.
All Your Questions About Online Counseling or Online Coaching, Answered.
Online counseling and coaching is taking off in a major way. When I started doing it back in 2010, it was a rarity. I was pleased to recently learn that there is now actually a podcast all about counseling and coaching online: The Online Counseling Podcast, with Clay Cockrell.
When he asked me to share my experiences with online counseling, of course I was honored. You can listen in on our conversation and learn some new things about online counseling like:
What kinds of people does online counseling or coaching work really well for?
What are the advantages of bringing your growth work online?
When is online marriage counseling actually NOT a good idea?
What kinds of personal work should you AVOID doing online?
What are some essential questions to be mindful of when you're looking for an online therapist or coach?
What kinds of approaches work really well in an online format, and which don't?
I answer all these questions (and many more!) during my interview with Clay. If you are considering exploring online counseling or coaching, I hope you check it out! Click here to listen now:
The Online Counseling Podcast, with Clay Cockrell and Dr. Lisa Marie Bobby
xo, Lisa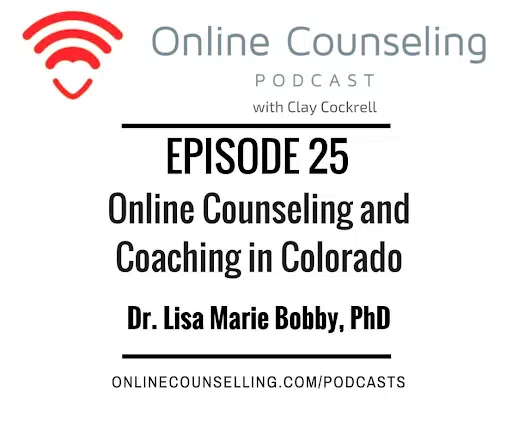 Ready to Grow?
Begin With a Free Consultation.