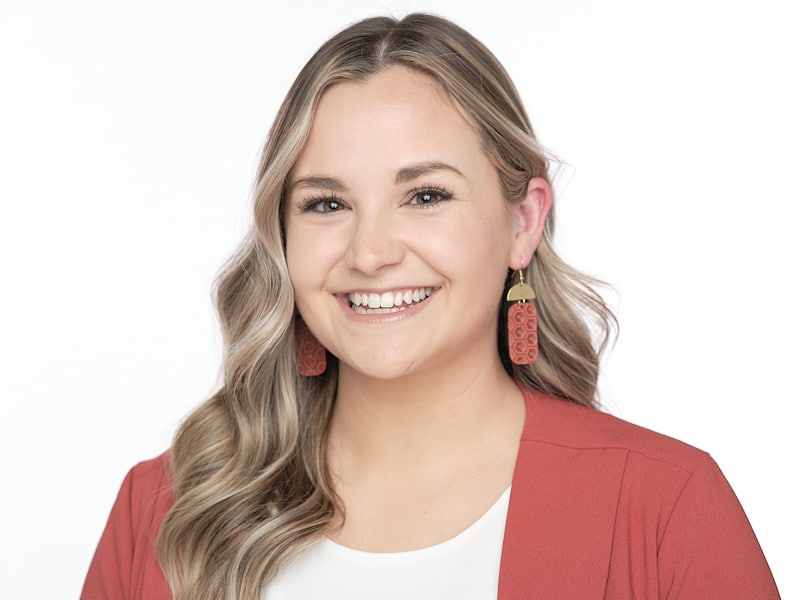 Elizabeth C.
M.A., MFTC
Emotionally-Focused, Authentic & Understanding
"Elizabeth always is prepared. She is thoughtful and asks thought-provoking questions. We are enjoying our sessions with her."
- Couples Counseling Client
Therapist Overview
Hello! I am Elizabeth and I enjoy working with couples, families, and individuals as both a therapist, and as a coach.
In my work I highly value authenticity. I believe that when we bring our full authentic selves into personal growth work this allows for a more open and honest relationship which will enable us to engage in deeper, more effective work to create long-lasting change. I work hard to create a safe and affirming space for clients of all backgrounds and communities, because you deserve to heal in a space where you can be accepted fully as you are. You are enough and my hope is you always feel safe and supported in my presence.
I believe that in order to create long lasting change, we must experience new patterns in the way we interact with ourselves and those around us. This means that in addition to talking about and understanding your circumstances, we must also work to create new experiences in the present moment within our sessions. This will allow for a deeper integration of the changes we are working towards together!
I work collaboratively with my clients because I believe that you are the expert of your life. I would be honored to help support and empower you to make meaningful changes that feel right for you in your life and relationships.
Couples Therapy and Relationship Coaching:
If you are seeking to improve your relationship, I can serve you as a couples counselor or relationship coach.
We are relational beings. Feeling connected to and understood by those who are most important in our lives is essential for a happy and healthy life. Many of our obstacles and injuries come from our significant relationships and so I believe much of our healing and growth can come through relationships as well.
I have specialized training in Emotionally Focused Therapy for Couples. I am experienced at helping couples identify their patterns of interaction within their relationship. Once we have established your "cycle" I can help you and your partner more effectively and clearly communicate in order to create a more emotionally safe and authentically bonded relationship.
Here is list of some areas I can support you and your partner/s with:
Creating a deeper emotional connection
Establishing emotional safety
Repairing past relationship injuries
Addressing intimacy issues and sexual dissatisfaction
Pregnancy & Parenthood
Attachment bonding
Polyamory and open relationships
Family Therapy:
In addition to couples counseling and relationship coaching for the purpose of relationship improvement, I am able to provide mental health focused family therapy to residents of Colorado, where I am a Licensed Marriage and Family Therapist Candidate (MFTC). I received my bachelor's degree in Human Development and Family Studies where I learned so much about development across the lifespan and the important role of families. In my Masters program I expanded on this knowledge by learning how to foster connected family relationships through therapy.
I also was an early childhood educator for a brief amount of time in between my undergraduate and graduate careers. During this time I learned a lot about effective strategies for working with young children. Additionally, when I was receiving my masters degree, I had the opportunity to work in multiple clinical settings. I was a therapist in the Family Clinic for Queer and Trans Youth where I worked with parents and teens to foster attachment through safer relationships for youth who were questioning their gender identities and/or sexuality. I also worked in the memory clinic where I led a caregiver support group for family members of individuals with memory impairment. I attended an Internship at a place called Youth in Need where I worked with children and their families engaging them in developmentally appropriate therapy activities. I like to pull from these experiences when working with parents and families in my work today.
I can work with families with the following situations:
Parenting strategies, specifically with children ages 0-6
Adolescents
LGBTQ+ Issues and gender affirmation
Attachment Bonding
Postpartum Issues
Trauma
Miscarriage
Loss
Individual Therapy:
In addition to working with couples and families, I also provide psychotherapy services for individuals of all ages in the state of Colorado. If you are experiencing symptoms of a mental health disorder, such as anxiety, depression, or something else, I can help!
In my masters program I completed a concentration in Medical Family Therapy. That means I took special classes to learn about and understand the interconnectedness of our mind and body. I was also able to work in medical settings so I have seen first hand the impact physical illnesses, chronic pain, and medically related incidents can have on your mental health and vice versa. I often incorporate this holistic knowledge in my sessions.
I utilize evidence-based treatment techniques such as Emotionally-Focused Individual Therapy, Mindfulness practices, and Somatic interventions. I work in a collaborative manner to find what works best for you in order to reduce your symptoms so that you can be more present and engaged in your life and relationships.
Below are some individual therapy issues I can help with:
Self-compassion
Body Image
Confidence
Family-of-Origin
Postpartum Mental Health
Trauma
Chronic Pain
Mental illness related to physical illness
Life Coaching:
If you are not experiencing symptoms of a mental health disorder and are just looking for ways to grow/improve yourself or your relationships, coaching may be a great option for you!
I provide coaching services for individuals and relationship coaching for those looking for concrete and tangible strategies to implement in order to create meaningful change. When serving you as a coach, I draw from the same general evidence based theories and skill sets that I use with my therapy clients. However, in coaching, we'll be applying these ideas in a structured way that is focused on helping you achieve clear and specific positive goals for yourself or your relationships.
About Me:
I completed my Bachelor's degree in Human Development and Family Studies from Colorado State University and my Master's degree in Family Therapy with a concentration in Medical Family Therapy from Saint Louis University.
I live in Colorado with my partner and our two rescue pups named Marco and Polo. My partner and I like to travel when we can, but we also try to enjoy all that Colorado has to offer. I love to do yoga or other positive body movement related practices. I am someone who constantly has music on in the background, as I find it comforting. I love the idea of being a "plant lady" but am admittedly not very good at it. I am trying to learn more about taking care of plants! I am also a total coffee lover, but strongly prefer local coffee shops over big coffee chains. My current Denver local favorite is Sweet Bloom!
Schedule with Elizabeth