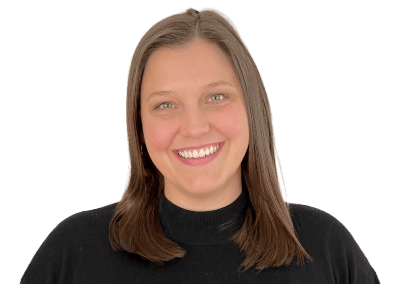 Emily B.
M.S., LMFTA
Dedicated to Your Empowerment
Meet Emily: a couples counselor, relationship coach, therapist and life coach with a positive, empowering approach to helping you create the change you desire. Emily believes that we each have the seeds of wisdom inside of us — and that with the right support, you can cultivate greater well-being, love, and success.
Welcome! My name is Emily. I am thankful you are here: If you're looking for true growth and positive change in yourself, and/or your relationships, you're in the right place. 
I believe we are each shaped through our past experiences. These past experiences not only impact what we believe about ourselves and others, but also our behavior in the present. As your therapist or coach, I will use evidence-based approaches to help you create the life changes you desire. 
I believe personal growth work is best when approached as a collaborative relationship between myself and my client. My goal is to create a safe space where you feel supported to be your authentic self, and empowered to identify and make the needed changes to improve your life. When working with me, you can expect a non-judgemental tone, gentle yet direct feedback, and a genuine curiosity about you, your life, and your relationships. If this sounds like a fit for you, please read on to hear about specific areas where I can be of service. 
As a Licensed Marriage and Family Therapist Associate (LMFTA) in Washington state, I can provide therapy services to individuals, couples and families in Washington, and I can provide life and relationship coaching services to clients located anywhere in the United States or internationally.
Working with Couples
Whether you're experiencing a major relationship crisis, or you're just interested in doing valuable growth work together to keep your connection strong, I can support you through couples counseling or relationship coaching. 
As your therapist or coach, my goal is to help you and your partner create meaningful change by building your understanding for one another. We'll explore your wants, needs, and expectations for your relationship, and find new ways to navigate your challenges. As a wife and mother, I know firsthand not only how important it is to feel connected with your partner, but also how tricky navigating different roles and responsibilities can be. 
While we can experience hurt and pain in relationships, relationships can also be a source of healing and growth. We all desire connection and want to feel valued, especially by those closest to us. Depending on your needs, I will draw on Emotionally Focused Therapy, the Gottman Method, Narrative Theory, or Cognitive Behavioral Therapy in our work together. If working with you as a relationship coach, I will draw upon techniques from these theories and pair them with an action-oriented approach to help you reach your goals. 
I can help you and your partner with:
Improving communication

Fostering a deeper connection

Revitalizing your connection

Life transitions

Intimacy issues and sexual satisfaction

Infertility

Grief and loss

Repairing ruptures and cultivating trust 
Life Coaching:
If you are looking to be the best version of yourself, actualize your ideal relationship, or achieve a personal goal, life coaching may be the right fit for you. I can support you with developing an action-oriented plan to improve yourself or your relationships. If you're feeling stuck or stagnant, I can help you create forward momentum in your life. By creating a road map for change and keeping you accountable and motivated, we can work collaboratively to cultivate new skills and move toward the goals that are most meaningful to you. 
Meaningful change is possible when you discover the things in life that are not working for you. My job as your coach is to help you figure out what those roadblocks are and how to move past them. To do this, I will draw upon skills and techniques from Cognitive Behavioral Therapy and Solution-Focused models. 
Below are a few areas I can help you with through coaching:
Life transitions 

Creating forward movement

Personal growth

Cultivating your ideal relationships
Learn more about the differences between coaching and therapy and which approach is right for you.
Individual Therapy
I can help you resolve the symptoms of mild mental health conditions through therapy. I provide psychotherapy for individuals 18 years and older in the state of Washington. 
I incorporate evidence-based tools from experiential and humanistic therapy models, as well as tools from Cognitive Behavioral Therapy (CBT) and solution-focused therapy. As your therapist, we will work together to find what works best to reduce your mental health symptoms, so you can improve your life and relationships. Together, we can explore thought processes that no longer serve you, and replace them with more helpful ways of thinking and acting that will leave you feeling better. I believe you have many strengths and wisdom inside of you that we can draw on to create long-lasting change. 
Here are a few of the areas I can help you with: 
Treating depression

Managing anxiety

Building self-compassion

Processing experiences in your family-of-origin

Improving postpartum mental health

Healing after grief and loss 
About Me
I completed a Masters of Science degree in Marriage and Family Therapy at the University of Southern Mississippi. Through my work at the Center for Marriage and Family Therapy, I have experience supporting individuals, couples, and families in deepening their relationships with themselves and others. I believe self growth is a life-long process and that compassion for ourselves and others is vital. In order to grow, you must feel safe and empowered. My goal for our sessions together is to create the right setting to empower you to create your desired change. 
Although I am originally from the southeastern United States, I have spent the last decade living and traveling throughout the US and internationally. My travel experience has shaped me into the curious and understanding person I am today. I call the Pacific Northwest home, but my southern charm remains intact. I am happiest when I am exploring the outdoors with my family and our silly dog, Willow. An ideal weekend for me would include a mountain or beach hike in the morning and searching out the best pizza spot in the afternoon.
Schedule with Emily