How to Raise Your Emotional Intelligence
How to Raise Your Emotional Intelligence as a Leader
Are you a leader or aspiring to grow into a leadership position? If so, it's essential to learn how to raise your emotional intelligence. What I've learned from my years of experience as a career coach and leadership coach, is that leaders working around boardroom tables, in classrooms, in surgical operating rooms, or on basketball courts all need high levels of emotional intelligence (EI) to be effective. In fact, emotional intelligence is the foundation for leadership excellence and is an essential skill for leaders at all levels, in any workplace, who seek to create a positive, high-performance work climate.
What Does Emotional Intelligence in the Workplace Look Like?
Those leaders with strong emotional intelligence are described by their employees, colleagues, clients, and customers as people who understand and manage their own emotions (and the emotions of others) well, show empathy, adjust effectively to ongoing workplace change and work with the flexibility and confidence needed for dealing with inevitable workplace conflicts. 
Picture this skilled leader also being highly effective in both leading and participating in workplace teams where interpersonal relationships often make or break outcomes. This is a leader with the competencies of emotional intelligence and one destined to be considered a star performer in any workplace.
Use Self-Awareness to Improve Your Emotional Intelligence:
Daniel Goleman, psychologist and author of Working With Emotional Intelligence, has researched and published on EI for decades. He reminds us that "we are being judged by a different yardstick in the workplace today" and that the skills of EI are more important than ever. 
Yes IQ is important, it often gets you in the door for an interview, along with your academic credentials, but your success in the workplace will be most defined by your ability to work with emotional intelligence.  
Like anything else, the key to developing your emotional intelligence is by cultivating self-awareness. Through an Emotional Intelligence (EI) assessment to understand your current levels of Emotional Intelligence, and strategic coaching sessions aimed at specific Emotional Intelligence competency areas, your EI skill levels (unlike IQ) can be improved. 
Goleman, and Harvard colleague, Richard Boyatzis, have developed a validated measure to help individual leaders and leadership teams to understand their current competencies of EI. The Emotional Social Competency Inventory (ESCI) to date has been utilized in over 2,500 organizations and is published in 15 languages, helping organizations around the world to build the skills of emotional intelligence and create more effective leaders. We offer this assessment to our leadership coaching and executive coaching clients at Growing Self, as well.
Three Tips To Increase Your Emotional Intelligence
What are your levels of Emotional Intelligence at work? Do they need to be improved?  Here are 3 ways to begin improving your EI right now.
Reflect. Take the time to consider your own emotions at work. What do you experience when co-workers disagree with you? What emotion do you feel when an unpleasant email comes your way? What feelings arise when your boss does not seem to value your work?
Engage. Being interested in those you work with shows empathy. Ask how your fellow team members are doing with their projects and listen to their answers. Follow-up.
Gain perspective. Ask those you work with for feedback on how you manage setbacks, change, and conflict. Be open to their comments and practice more effective approaches if needed.With ESCI Coaching certifications from Korn Ferry-Hay Group (Boston, MA), and a decade of experience in delivering ESCI assessments and coaching for both individuals and leadership teams, Growing Self coaches Linda P., MA, ESCI Certified Coach, and Meagan T., MA, ESCI Certified Coach, welcome you to schedule a free consultation to learn more about building your Emotional Intelligence skills.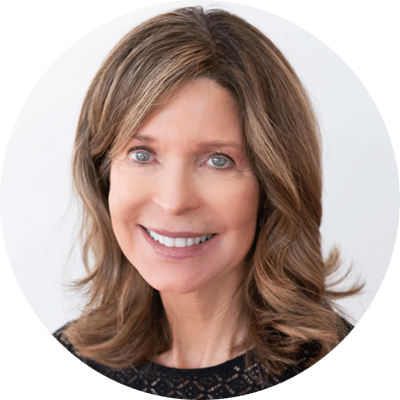 Meet Linda: a relationship expert and certified emotional intelligence coach with a unique blend of professional experience as a marriage counselor, executive coach, leadership coach, life coach, and therapist. She's here to help you understand yourself and others, improve your communication, increase your emotional intelligence, and cultivate positive relationships — both personally, and professionally.
Ready to Grow?
Our experts know how to help you move forward, with clarity and confidence.