How To Fall Back In Love With Your Spouse
I had known Mary for several years. I had gone to 7 years of schooling with her. We had spent countless days and nights together. We were best friends. Then we started dating, and I thought that I knew her very well but within those first few dates I found both of us having to take a step back to ask some "get to know you questions." While this feels fairly common for a new relationship, we can forget how important these conversations are to our long-term relationships as well.
Through this foundational relationship conversation, we talked about our family histories, what we wanted for our future, what are our fears, our pet peeves – we even talked about our favorite colors and foods. In that moment, Mary and I had a new beginning. It wasn't the beginning of our story, but we started anew. This event changed our pathway and set us on a path together rather than two separate people walking next to each other. We were unified.
As a Relationship Coach and Marriage Counselor, it's not uncommon for couples to come into our sessions feeling stagnant in the relationship with their long-term partner. With large events, new beginnings come naturally. Things like moving, new jobs, having a baby. It is an obvious time to re-adjust and re-align as a couple. But what about those times when everything stays as it is? For weeks, months or years? That is when it becomes vital to your relationship to create moments for new beginnings.
Now having been married for several years, Mary and I continue to have new beginnings and I want to share with you today a simple tool for falling back in love with your spouse.
Creating Time to Grow Together
We as individuals are constantly evolving and changing. It is imperative that we continually ensure that we know our partner and can find ways to be unified in our relationships. Just as you continue to grow and change, so does your partner. Their favorite band 5 years ago may be completely irrelevant to them now. It's so important to create time together (even amongst busy work/career/social schedules) to sit down and spend quality time talking, listening, and encouraging one another through personal and relational growth.
For you, this may look like a weekly date night, lunch break, coffee together, or the coveted hours of the evening once the kids are put to bed. Whatever this time looks like for you, make it a priority.
Questions That Inspire Intimacy
In my sessions with couples I like to encourage my clients to begin asking each other questions that are both new to the relationship and reruns from years past. You don't have to have a Quizlet setup in order for this to be effective. You can begin by covering some of the more natural areas of conversation (e.g. what's your favorite part of your day?), and you may be surprised by the level of intimacy that can grow from these simple conversations.
Some other conversation starters for you and your partner might include:
Do you want children? When? How many?
What type of parent do you want to be?
How do you view the role of each partner in the relationship?
How do you want to handle finances together?
What is your biggest physical fear (i.e. sharks, heights, snakes, etc.)? What is your biggest emotional fear (i.e. being unloved, failing, etc.)?
What makes you happy?
What makes you sad?
Where do you see your life 10 years from now?
What are your ambitions? How can I help you accomplish your goals?
What do you feel the role of extended family is in our relationship?
What are your top priorities for how you spend your time?
What are your spiritual/religious beliefs and what role do they play in your life?
What do you consider your core values?
What are some of your biggest stressors?
If you could change something about yourself what would it be?
What are some things you do well?
How do you show love? How do you want me to show love?
What are your goals for this week, month, or year?
Where do you want to live or raise our family?
What is the role of sex in our relationship?
Guide the Conversation with Curiosity and Sincerity
Approach each of these questions with a curious mindset. Ask follow-up questions, ask about experiences your partner has had that has helped develop their answer, ask anything that comes to mind after your partner answers the initial question.
Too many times I have worked with couples that have been in a committed relationship with each other for years and are not able to answer these questions. Many couples have never asked these questions or any other similar questions. In those situations, we start from the beginning and ask deeper "get to know you" questions. It may feel like we are going backwards but we are truly building a stronger foundation for that couple to move forward together.
Be sincere in your interest, and show you're listening by engaging in the conversation as it moves forward. This isn't a game of 20-Questions, so take your time. You already know your partner, now you're meeting them at a deeper level.
Be Honest and True to the Relationship and Your Partner
Sometimes you may find as a couple that answering these questions confirms that your relationship can succeed and flourish, that you align in many key aspects of life. Sometimes you may find that your answers are drastically different and you are looking for different things from life. If this is the case, you may decide that you can make it work despite the differences or you may find that there are too many differences to reconcile. Either way, it is important to understand your partner on this level, and can sometimes offer the clarity you are looking for.
New Beginnings = Budding Romance (even for you long-termers out there)
Take this new year as a time to find new beginnings in your relationship. Whether you have been dating for a week or married for decades, there are new things to discover! Doing this will only strengthen what you already have. I challenge you and your partner to take time within the next week to do 2 things:
Make a list of any questions you would add to the 20 I listed above.
Schedule quality time together to ask each of these questions and understand one another on a deeper level all over again.
Taking the time to get to know your partner in a deeper way can be a powerful way to build a more meaningful connection and strengthen the love you feel for each other.
Wishing you all the best,
Hunter Tolman, M.S., MFTC
Hunter Tolman, M.S., MFTC specializes in helping people just like you reach their highest potential both individually, and in their most important relationships. He provides couples counseling, family therapy, individual therapy, and life coaching that focuses on creating understanding and fostering strong connections that support healing and compassion.
Real Help For Your Relationship
Lots of couples go through challenging times, but the ones who turn "rough-patches" into "growth moments" can come out the other side stronger and happier than ever before.
Working with an expert couples counselor can help you create understanding, empathy and open communication that felt impossible before.
Start your journey of growth together by scheduling a free consultation.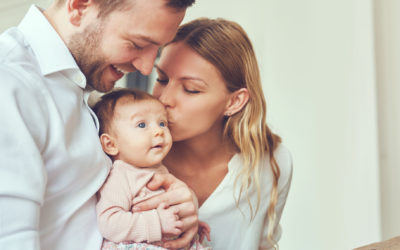 Welcoming a new baby comes with many joys and challenges. Parenting and Family Coach Hunter Tolman shares five tips to help you start feeling more confident throughout your parenting journey.