Is Jealousy Healthy in a Relationship?
Is Jealousy Healthy in a Relationship?
The Love, Happiness & Success Podcast with Dr. Lisa Marie Bobby
Is Jealousy Healthy In a Relationship?
Nobody wants to be a "jealous person." But periodic flashes of jealousy are a universal human experience, and they can be surprisingly powerful when they wash over us. 
When your girlfriend spends a little bit too much time hanging out with her hunky coworker, or your husband's "friend" comments one too many times on his Instagram posts, jealousy can strike, no matter how secure you are, or how healthy your relationship is. 
You might be gripped by feelings of anger, fear, and sadness as you think about your partner connecting with someone else. You might feel compelled to take action to prevent that from happening… or you might suppress your jealous feelings altogether because they don't match up with the cool, confident person you want to be. 
As a longtime marriage counselor and relationship coach, I know that jealousy in a relationship is not just natural and normal — it's also quite adaptive. Feelings of jealousy can bring you and your partner closer together, and both protect and strengthen your attachment bond. 
But jealousy also has the power to damage relationships, depending on how you handle it. Managing a white-hot feeling like jealousy and communicating about it in a vulnerable, emotionally-safe way takes a lot of self-awareness and self-control. Then, jealousy becomes something that helps you preserve and strengthen your relationship, and create an even deeper bond between yourself and your partner. 
This article will discuss how you can do that. You'll learn all about why we feel jealous, when is jealousy healthy in a relationship and when it's a problem, and how you can use feelings of jealousy to tune into what's happening, start important conversations, and take positive action that helps your relationship grow. I've also created an episode of the Love, Happiness and Success podcast on this topic. You can listen on this page, Apple podcasts, Spotify, or wherever you get your podcasts. 
Grow, Together.
Our authentic relationship experts know how to help you learn, grow, and move forward into a bright new chapter.
Is Jealousy Healthy in a Relationship?
Jealousy gets a bad rap. It belongs to the family of "ugly feelings," like rage, loathing, and disgust. "Jealous people" are often labeled possessive, paranoid, or insecure. 
When you think about someone who's jealous, you might imagine someone who obsessively monitors their partner's Instagram likes, or accuses them of flirting with Uber drivers and waiters. This kind of jealousy certainly happens, and it can fuel some pretty toxic relationship dynamics. In its extreme form, jealousy can lead to nasty fights, controlling behavior, or even abuse. 
It's no surprise, then, that many people consider romantic jealousy categorically unhealthy, and that we're so eager to distance ourselves from it. When we're feeling jealous, we might shove those feelings down rather than talking about them with our partner. Or, we might translate our jealousy directly into anger, blaming our partner for "making us feel" an unpleasant, shameful feeling. 
But, like all feelings, jealousy is natural and normal, and when managed in the right way, it can even be good for your relationship. If you can accept your feelings of jealousy and listen to what they're trying to tell you, without judgment or blame, it can prompt important conversations and help you build a closer, more secure connection with your partner. 
To do that, it helps to understand what romantic jealousy is and why we experience it. 
What Is Romantic Jealousy?
We can feel jealous in just about any relationship, but romantic jealousy is a uniquely powerful force. Even the most easy going people can surprise themselves by how overwhelmed they feel when the conditions are right to trigger it. 
From an evolutionary perspective, these feelings serve a very good purpose. Humans evolved in a context where sticking together meant survival, while rejection and abandonment meant death. People dominate the planet because we form powerful attachment bonds and work hard to preserve them, not because our ancestors were super laidback about their mates wandering off into somebody else's mud hut.  
In the modern world, you probably wouldn't starve to death if your partner left you for someone else. But we still attach to our partners in the same way and have the same emotional and physiological responses when those attachments feel threatened. When you sense a "rival" moving in on the person you're attached to, some deeply hardwired machinery starts whirring in your brain, and a complex mix of fear, pain, anger, and suspicion washes over you. 
This is romantic jealousy, and it's designed to motivate you to take action to ensure that your attachment bond is stable and that your partner isn't going anywhere. Whether your jealousy is "healthy" or "unhealthy," or "good" or "bad" for your relationship, depends on how you manage those feelings, and how you and your partner are able to communicate about them. 
How to Deal with Jealousy in a Relationship
When handled well, feelings of jealousy can lead to a conversation that brings you and your partner closer together. 
Here's how that would play out, in an ideal world: 
You express vulnerable feelings → Your partner responds with validation, empathy, and reassurance → You understand each other better, and you feel more secure and connected.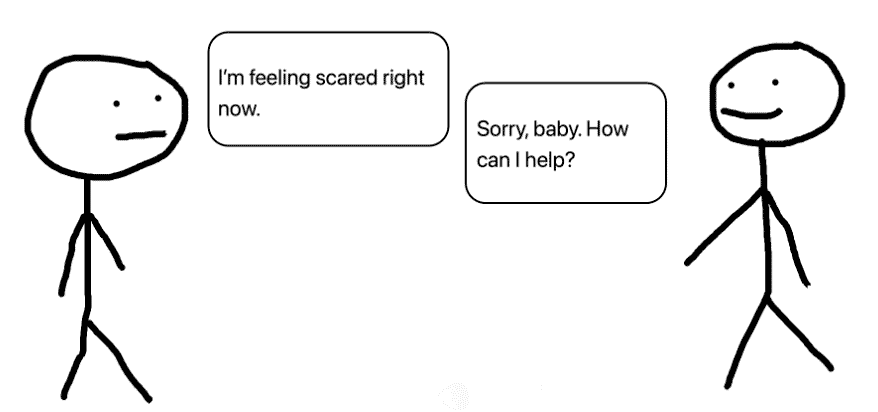 Scenario #1
But, this is not an ideal world, and often the conversation plays out more like this: 
You're emotionally flooded, so you come in a little bit hot → Your partner feels attacked, so they get defensive → You end up having a fight, and the opportunity to connect is lost.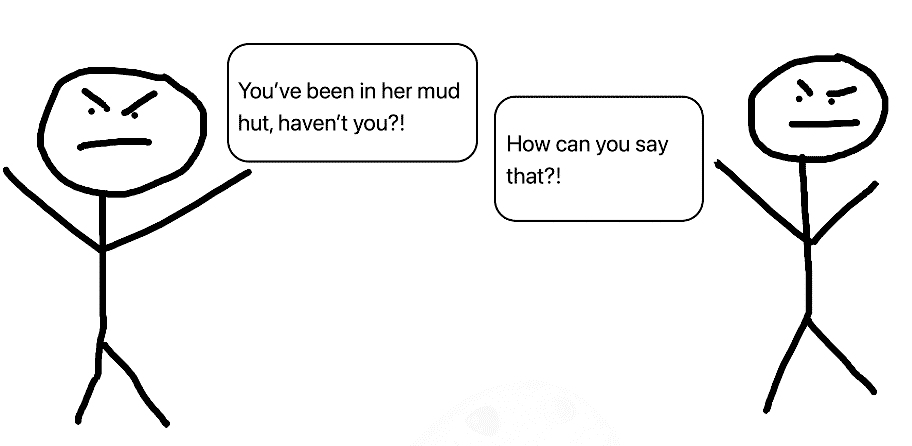 Scenario #2
To avoid scenario #2, lead with vulnerability when you're talking with your partner about feelings of jealousy. Tell them you're feeling worried about the situation (because you love them and they mean so much to you) and ask them for what you need. 
You might just need a little reassurance, or to set some boundaries together for your relationship. For example, you may have never talked about what's appropriate when it comes to spending time with friends of the opposite sex. If you're in the early stages of dating, you may have not yet had a conversation about exclusivity or your commitment to each other. If this is the case, your feelings of jealousy are your emotional guidance system's way of telling you that it's time to talk.
These conversations can be scary, and if you've been avoiding them, there may be a reason for that. Maybe you're afraid of seeming needy, or you're afraid of what you'll hear. But you get to have needs in your relationship, and gaining more information about whether or not your partner is able or willing to meet those needs can only be a good thing. 
And if you're on the other side of this conversation, try to hear the vulnerability underneath your partner's words when they're feeling jealous. They may sound angry or accusatory, but they're really trying to say, "I'm feeling scared right now. Please reassure me that I'm safe." 
Jealousy and Relational Trauma
Sometimes jealousy pops up because of things that are happening in the present moment. But other times, jealousy has more to do with things that happened in the past. 
If you've been cheated on, abandoned, or rejected in a particularly painful way, that creates an emotional ripple effect that carries on long after the relationship in question is over. This is relational trauma, and it makes you hypervigilant about all the possibilities for getting hurt again. You might get carried away with a story about who they're talking to every time your partner gets a text notification, or feel a little bit obsessed about where they're going and who they're with. 
This is a totally normal reaction to being traumatized; it's your brain's effort to keep you safe from being hurt again. Unfortunately, it can cause a lot of problems in your relationship, making it difficult for you to relax, to enjoy the positive connection you have with your partner, and to trust them. It can be frustrating and hurtful for your partner as well, especially if they've been nothing but trustworthy for you. 
Of course, if your partner hasn't been entirely trustworthy, if they have perhaps cheated on you in the past, then your feelings of jealousy are totally expected and appropriate. Moving forward after infidelity requires a process of healing and repairing trust. 
If you suspect old wounds are at the root of jealousy in your relationship, then reading articles and listening to podcasts won't fully solve the problem. A good couples counselor or individual therapist can help you both heal from trauma, rebuild trust, and feel safe and secure in the present. 
When Jealousy Is Not Healthy in a Relationship
There's nothing wrong with feeling jealous from time to time. But when jealousy is left unchecked, it creates problems. 
Jealousy is often the driving force behind abusive relationships. In an effort to manage their own anxiety about losing the relationship, an abuser may monitor their partner's communications, threaten them or the people in their life, use physical force to stop their partner from leaving, or "punish" their partner for "making them jealous" with physical, emotional, or verbal abuse. 
We can understand the feelings that lead to abusive behavior, while recognizing that abuse is never ok. If you're in a relationship that sounds like this, visit thehotline.org for great resources that can help. 
Is Jealousy Healthy in a Relationship?
Jealousy is a normal and adaptive emotion. If you can manage your jealousy with an understanding of what's really happening, it can lead to positive things for you and for your partner. 
Paying attention to your feelings of jealousy and communicating them in a healthy way can open up new opportunities for connection, and can be the catalyst that helps you to get on the same page about boundaries, commitment, and expectations for your relationship. 
Episode Show Notes
[03:23] Is Jealousy Healthy in a Relationship
Jealousy can happen in any relationship, even non-romantic ones.
Many people believe there should be zero jealousy in a relationship.
Jealousy can set off a chain of assumptions about ourselves and our partner.
[09:49] What Causes Jealousy in a Romantic Relationship?
Jealousy is a complex and powerful emotion rooted in primal human instincts.
Our brains interpret threats to our attachments as threats to our survival.
Although it hurts, jealousy is part of an emotional guidance system that identifies threats.
[17:49] Healthy Jealousy in a Relationship
Jealousy motivates specific behaviors and puts us on alert.
It serves a purpose: to warn us of problems so that we can take action.
You might feel jealousy even for relationships that you no longer want.
It's critical to talk about your feelings to create emotionally bonding conversations with your partner.
[23:56] How to Handle Jealousy in a Relationship
Your partner or you may have deeply-rooted relational traumas or attachment wounds.
Relational trauma has similar symptoms to PTSD, even if not to the same level of intensity.
People with these wounds may be hypervigilant and constantly anxious, but it's not about their partner, it's an artifact of their trauma.
Unfaithful partners may not understand the legacy of the trauma they inflicted.
[33:25] How to Work on Jealousy in a Relationship
It's vital to approach traumatized partners with compassion, intention, and sensitivity. 
They may need a significant amount of reassurance and time.
Jealousy can create trust issues, damaging an emotional bond.
It's essential to communicate clearly: don't be defensive, and practice emotionally safe communication.
Professional help is likely your best option if one partner has deep emotional wounds.
[41:56] Abusive Jealousy in a Relationship
Your partner's past traumas are not your fault, and you do not have to participate in them.
Trauma might be why your partner acts abusively, but it does not excuse their behavior.
If your partner exhibits abusive behavior, it's critical to connect with a therapist or look for assistance.
[46:01] Learning From Jealousy in a Relationship
Pay attention to your feelings of jealousy and be honest about how you feel, your values, and your intentions for the relationship.
Jealousy can be a good warning system for problems in your relationship.
---
Music in this episode is by Gloria Ann Taylor with their song "Jolene." You can support them and their work by visiting their Bandcamp page here: https://nightbeats.bandcamp.com/. Under the circumstance of use of music, each portion of used music within this current episode fits under Section 107 of the Copyright Act, i.e., Fair Use. Please refer to copyright.gov if further questions are prompted.
Listen & Subscribe to the Podcast
Is Jealousy Healthy in a Relationship?
The Love, Happiness & Success Podcast with Dr. Lisa Marie Bobby
Free, Expert Advice — For You.
Subscribe To The Love, Happiness, and Success Podcast
Let's Talk: Start With a Free Consultation
If you're ready to grow, we're here to help. Connect with us, and let us know your hopes and goals. We'll follow up with recommendations, and will help you schedule a first, free consultation.
The Best Dating Coach
The best dating coaches are true relationship specialists: but finding them can be a challenge. Here's how to find the best dating coach, for you.
How Much Are Dating Coaches?
If your goal is finding The One to build a life with, a good dating coach is priceless. At Growing Self, it's also affordable. Learn how much a dating coach costs.
Gift Dating Coaching
If you care about someone who could use support in learning how to date with intention and confidence, you can "gift" dating coaching sessions. Here's how…
Denver Dating Coach
We offer expert relationship coaching and therapy to help you grow, love, and be loved. You can have the healthy relationship you deserve. Learn about working with a Denver dating coach.
Online Dating Coach
We can help you create true love. Build confidence, self-awareness, and an enduring relationship with the one you've been looking for. Learn about our online dating coach services.
Get clarity, confidence, and a solid plan to find and connect with your person. You can learn the art and science of successful modern dating in our self-paced "Find The One" online dating class.
If you have more questions about our dating coaching services, we're happy to chat by phone, email, or text. Get in touch, anytime.
Ready to partner with a Growing Self dating coach? Book a free consultation with the coach of your choice. Start here.