Communication That Connects
Communication That Connects
Hear & Be Heard
Happy couples know that working on communication skills is one of the most important things you can do to strengthen your relationship.
In the Communication That Connects Collection, you'll find expert advice from our couples counselors and relationship coaches for communication repair, constructive conflict, empowered communication skills, healthy boundaries, increasing emotional intimacy, communicating with a withdrawn partner, and more.

The Latest Posts In The Communication That Connects Collection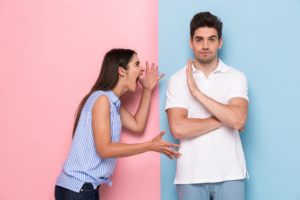 Is your partner emotionally unavailable? Or is there something else going on? Figure out what's happening and the path forward.
Podcast Episodes For Healthy Communication
Other Collections For You