The ESCI
How Great Leaders Are Grown.
Certified ESCI Coaches | Emotional Intelligence 360 Assessment | Emotional and Social Competency Inventory
All Great Leadership Begins With Growth.
To be a genuinely effective leader, it's not enough to be smart and competent. You must also have influence, so that you can inspire and create meaningful impact.
None of the above can be achieved without something else: Emotional Intelligence.
Emotional Intelligence Requires Self-Awareness
Long-term studies point to emotional intelligence as one of the key factors that contributes to professional success as well as personal life satisfaction. Without emotional intelligence promising careers stall, leaders stumble, and organizations struggle. We also know that emotional intelligence is a skill-set that can be acquired. 
But how? As with most things, having a desire for positive change is jus the starting point. Seeking to improve your emotional intelligence requires first knowing where you need to improve, and then taking meaningful action to acquire and practice those skills.
The first step is to acquire self-awareness.
It is always challenging to gain authentic self-awareness, but even more so when it comes to an accurate self-assessment of your emotional intelligence. Recent research shows that most people overestimate their competence in this area… often to the detriment of themselves, their organizations and their relationships.
Why? Because we all have blind-spots. We simply don't know what we don't know, unless and until we start asking for feedback — and then putting that new knowledge to work.
But not everyone does.
Only The Highest Achievers Seek Out Feedback
A study published in the Journal of Applied Psychology demonstrated a fascinating paradox: The people lowest in emotional intelligence were often perceived to be the lowest achievers in an organization… and the ones most inclined to actively reject feedback or opportunities to improve — particularly in the realm of emotional intelligence.
In contrast, the highest achievers were the ones who valued and then acted upon feedback. They were the ones interested in learning and growing.
Which are you?
How to Assess Emotional Intelligence
It's well documented that individuals can learn to be more emotionally intelligent and that those high in EI are more successful in nearly every domain.
But the challenge in developing your emotional intelligence is in discovering where, exactly, you need to change and grow. That authentic, reality-based insight is seldom achieved without the benefit of factual information about how others perceive you.
One of the most effective ways of getting this information is through a 360 assessment, such as the Emotional and Social Competency Inventory (ESCI). The ESCI is the gold standard of EI assessment and is widely considered to be the most effective tool
to assess EI.
The ESCI was developed by Daniel Goleman, Richard Boyatzis and the Harvard Institute of Coaching. It is managed by Korn | Ferry.
Influence, Impact & Inspire
Understanding The ESCI
The ESCI (Emotional Social Competency Inventory) is a 360º assessment, administered and interpreted by highly trained Emotional Intelligence Coaches
Here's how it works:  The ESCI assessment process begins with a 60-minute individual or leadership team training to better understand what emotional intelligence is and why it's important, as well as in-depth education around the assessment process. 
Your leadership team will learn how to select raters and understand the impact of Emotional and Social Intelligence. Then, the participants and their raters will complete the comprehensive inventory process through an online system managed by Korn|Ferry. 
Once the results are in, participants then review their results and recommendations with their coaches, and then go through high-impact, one-on-one coaching sessions to support their goals based on the assessment results.
Leadership and Team Growth Opportunities
Through the comprehensive ESCI assessment process, your key people will uncover valuable insight into themselves and how they impact others, including:
Emotional Self-Awareness: Recognizing one's emotions and their effects
Emotional Self-Control: Keeping disruptive emotions and impulses in check
Adaptability: Flexibility in handling change
Achievement Orientation: Striving to improve or meeting a standard of excellence
Positive Outlook: Persistence in pursuing goals despite obstacles and setbacks
Empathy: Sensing others' feelings and perspectives, and taking an active interest in their concerns
Organizational Awareness: Reading a group's emotional currents and power relationships
Coach and Mentor: Sensing others' development needs and bolstering their abilities
Inspirational Leadership: Inspiring and guiding individuals and groups
Influence: Wielding effective tactics for persuasion
Conflict Management: Negotiating and resolving disagreements
Teamwork: Working with others toward shared goals. Creating group synergy in pursuing collective goals.
With the new self-awareness that the ESCI uncovers, your team can then work closely with their coach to create positive change in the areas that matter most.
Knowledge Is Power… But Action Creates Change
The true beauty of the ESCI lies not just in the new self-awareness you receive because of going through this process: The real benefit lies in the targeted coaching you receive based on your results.
Insight alone is rarely enough to affect change. However, working with a certified emotional intelligence coach who can help you build on your existing strengths and teach you new skills and strategies that will help you move the needle.
By working closely with your coach as you learn and practice new skills, try new approaches, and respond differently to challenging situations, you'll get the actionable support you need to grow.
Invest In Your Emotional Intelligence
The process of developing your emotional intelligence takes time and energy, but the rewards to you — both personally and professionally — are priceless.
With high levels of emotional intelligence, you're more likely to succeed professionally, feel happier, and have more deeply satisfying personal relationships.
Or, as we like to say… Love, Happiness and Success.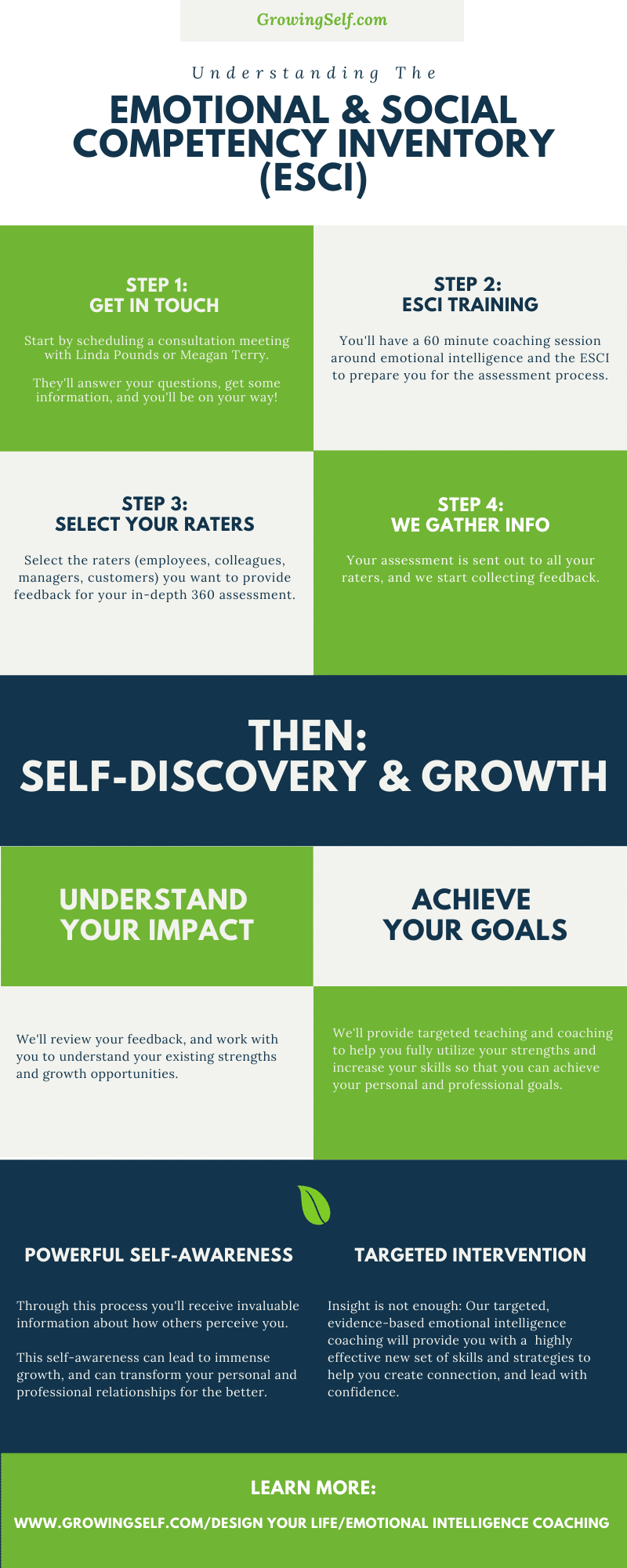 Meet Our ESCI-Certified Coaches
Meagan asks me questions that make me understand things in a different light. This has helped me understand my feelings and reactions better.
– Emotional Intelligence Coaching Client
My coach is helping me recognize my emotions so that I can not let them be back seat drivers.
– Career Coaching Client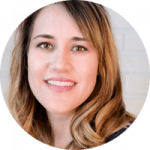 Meagan Terry, M.A., LMFT
Certified in ESCI & Emotional Intelligence Coaching
Meagan Terry is a relationship specialist. In addition to her work as a licensed marriage and family therapist, she is a certified emotional intelligence coach. Meagan is certified in the assessment and interpretation of the Emotional and Social Competence Inventory (for individuals and organizations). She has helped countless people develop their emotional intelligence skills in order to transform their personal and professional relationships.
Linda Pounds, M.A., LMFT
Certified in ESCI & Emotional Intelligence Coaching
Linda is an experienced and certified Emotional Intelligence coach.  She has led hundreds of leaders through the ESCI and follow-up coaching process —producing positive workplace and personal change in their lives. Linda designed and managed the Emotional Intelligence Leadership Coaching Program for the State of Colorado and currently provides Emotional Intelligence coaching and assessments at Growing Self. She is a Fellow at Harvard's Institute of Coaching and a member of Forbes Coaches Council.
Questions? Get in Touch.
If you are interested in learning more about how the ESCI can help you succeed, and your organization flourish, please call or email to let us know.
Linda Pounds or Megan Terry will follow up with you personally to schedule a time to discuss your goals, and how they can help you achieve them.
Love, Happiness and Success Advice From The Blog & Podcast
Ready to start a new chapter in life? On this episode of the podcast, we're talking about taking ownership of your story to create the future you want.
read more
[et_pb_blog_extras posts_number="6″ include_categories="1401″ blog_layout="box_extended" show_author="off" show_date="off" show_categories="off" show_comments="off" _builder_version="4.0.3″ _i="0″ _address="10.0.0.0″ /]