Questions About Dating Coaching
What To Expect in Your Free Dating Coaching Consultation
Online Dating Coach • Denver Dating Coach • San Francisco Dating Coach • International Dating Consultant
If you've never been involved in private coaching before, you might have some (understandable) questions about what to expect, especially going into your first meeting with your dating coach. Here is more information to help put your mind at ease, plus some tips for how to get the most out of your dating coaching consultation session.
#1. Get to Know Your Dating Coach
Right after you schedule your first dating coaching consultation, you'll get an appointment confirmation with a link to connect with your dating coach online, or in person if you're meeting with your dating coach in Denver, Broomfield, DTC, or Fort Collins. 
During that first meeting with your dating coach, you'll have the opportunity to learn more about them and ask questions about their training, experience, and qualifications to help you. We want to make sure you feel comfortable with your dating coach before moving forward, and your consultation session is the opportunity for you to make sure it feels like a good fit.
More than anything, we want you to feel positive and comfortable about your relationship with your dating coach. For that reason, your dating coach will tell you a little more about themselves, their background, and their training so that you can make sure their style and experience is in line with what you're looking for. Your dating coach will also discuss their practice policies and availability, and provide you with information about things like the cost of dating coaching, how long dating coaching will take, and the methods they use to help you get results. If your dating coach feels like you might benefit from seeing a different coach on our team, or would be better off using some of our other services, like our online dating coaching class, or dating administrative services as opposed to private dating coaching, they'll provide you with a referral. 
#2. Your Dating Coach Wants To Get To Know You, too!
If you're feeling comfortable with your dating coach, during your first meeting you'll have the chance to tell them more about what's been going on for you.  Your dating coach will likely ask a few questions to get clarity about what your goals are for your personal growth work around dating, and relationships. While your dating coach will certainly want to know what you'd like to get out of the work, you can rest assured that they will not be asking you probing, personal questions about your history or other life experiences. If you decide, after the first meeting, that it feels like a good fit, then you can dig deeper in your first "official" session with your dating coach. But your first consultation session is just a "getting to know each other," with the objective being that you feel comfortable with you'll be working with. 
#3. You'll Discuss Your Goals
.
If you don't already have specific goals for dating coaching, that is okay. Sometimes it takes a few meetings to get clarity about what you want (and an accurate understanding of what has not been working) in order to develop realistic goals. Your dating coach will be listening to understand what you hope to get out of dating coaching, and what your needs are, so that they can make sure they can be genuinely helpful to you. 
#4. You'll Move Forward
If you feel comfortable with your dating coach, and what working with them would entail, then you can schedule your first official dating coaching session directly with them at a day, time and location that's most convenient for you. If, for any reason (pricing, availability, or just a "feeling") you can request to meet with a different dating coach. The coach you met with will help you get connected with a different dating coach on our team who might be a better fit for you.
Our Dating Coaches Are All About YOU.
Not everyone offers a free, 30 minute face-to-face consultation to establish goodness of fit before going forward. Why do we? Because we are all about you, and making sure that your experience with Growing Self is exactly what you want and need it to be. Your comfort and feeling of connection with your dating coach is one of the most important indicators of whether or not your work will be successful. And your satisfaction and success is our number one priority.
When you move forward with us, we'll check in with you frequently to make sure that you're getting everything you need out of this experience. Plus we have an entire team at the ready, to support you on your journey of growth. We're here to customize your experience to make it exactly right for you.
Get in touch, and set up your free consultation with one of our expert dating coaches today.
Answers to Your Dating Coaching Questions
Wondering how, exactly, a professional online dating coach can help you get different results? It starts with a journey of self-discovery, where you learn more about yourself and the previously unknown obstacles that have been getting in the way of your success. Armed with that knowledge, you can then work with your coach to try new, more effective strategies.
If you're considering dating coaching, an understandable question is how much dating coaching costs. First, it's helpful to understand the true value that expert dating coaching can bring to your life. At Growing Self, expert dating coaching is also as affordable as it is meaningful and effective. Learn more about our rates for dating coaching (and whether you can use your insurance!)
Wondering why you should enlist the support of a personal dating coach, or keep working at things on your own? Here are a few thought provoking questions to help you determine if you could benefit from working with a professional dating coach, or if you're already heading in the right direction.
If you've never done any type of coaching before, you might be a little nervous about what to expect in your very first meeting. Learn more about what types of questions your dating coach will ask, and how your consultation meeting will unfold...
Meet Some Of Our Dating Coaches
Markie Keelan, M.A., LPCC, CSPC
Dynamic Life, Career & Dating Coach
Markie is a Master's level coach with a positive, compassionate attitude towards personal growth. She has years of experience in helping people create real and lasting change in their lives and performing at the highest level of their potential. Listen to Markie's great dating advice on the "New Rules For Dating" podcast with Dr. Helen Fisher.
Jessica Small, M.A., LMFT
Dating and Relationship Coach
Jessica is a dating coach, as well as a licensed marriage and family therapist, with many years of experience in helping people create happy, healthy, and authentic relationships. She has extensive experience in helping people create healthy relationships, and can help you get self-awareness, clarity, confidence, and empowerment to connect with your soul-mate.
Georgiana Spradling, PhD, MFT
Emotional Intelligence Coach - Dating Coach
Dr. Georgiana is a wise and experienced marriage and family therapist, emotional intelligence coach, and dating coach. Fluent in English, Spanish and French, she takes an international and multicultural approach to healthy relationships. Her straightforward, direct style will help you cut through the clutter and create a focused and effective plan to find your ideal partner.
Free Dating Advice, For You
Feeling connected to your cultural identity can be an important part of life satisfaction for many people, and it can be a large part of one's identity as a whole. Online therapist, Josephine M., shares more here…
The online dating world can be a jungle. Online therapist and dating coach Jessica Small, M.A., LMFT shares her top tips for online dating. From creating your profile, avoiding red flags and disappointment, to setting yourself up for success!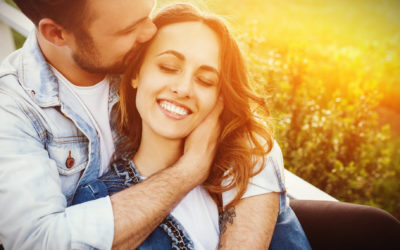 Persistent feelings of insecurity can tank a relationship. Learn how to strengthen your sense of trust and the emotional security of your partnership, on this edition of the Love, Happiness and Success Podcast.