Tomauro Veasley, M.A., LMFT
Solution-Focused, Empowering and Healing
Certified Life Coach • Individual Therapist (Tennessee) • Certified Prepare / Enrich Premarital Counselor • Emotionally Focused Couples Therapy • Parent Coaching • Blended Family Therapist • Online Marriage Counselor • Online Therapist • Online Life Coach • Online Premarital Counseling • Breakup Therapy / Divorce Recovery
Hello, I'm Tomauro. 
I seek to be an instrument of positive change in the lives of those I might help, through evidence-based couples counseling, family therapy, individual therapy, and life coaching.
My hope for my role in your life is to be a source of strength, hope, and empowerment for you, your relationship and your family as you work to uncover your maximum potential. Our work together is intended to provide purpose and help you strengthen yourself and your relationships in order to promote healing and growth.
How I Can Help You
Past clients have described me as genuine, compassionate and an active listener who is kind, but also honest. One of my key strengths is an ability to help people feel safe, comfortable and understood. This is especially helpful in couples counseling situations with one partner who may be on the fence about getting help! Whether we're working together to improve your relationship, create a more positive family life, or to strengthen and empower YOU, my hope is to help you achieve your goals, strengthen your connections, and grow as a person.
Positive, Effective Marriage Counseling, Couples Therapy, and Relationship Coaching
I specialize in couples therapy and marriage counseling and have years of specialized education,  training, and experience in this area. I primarily use an evidence-based approach to couples counseling called Emotionally Focused Couples Therapy (EFCT). 
The reason why this is so effective in helping you create real and lasting change in your relationship is because it takes a certain level of vulnerability to maintain a healthy relationship. That vulnerability allows you to trust and communicate more effectively with your partner or spouse. Working with me, I aim to increase positive communication, help establish healthy boundaries and overall improve the daily interactions and conflict resolution skills. 
Premarital Counseling
I believe the greatest gift you can give your new marriage is the opportunity to learn how to be amazing, supportive partners for each other. Premarital Counseling allows you to have essential conversations and create a strong foundation to avoid future marital conflicts.
I am a certified Prepare-Enrich premarital counselor. If we work together, we'll start with an assessment and then we will discuss the results as a team. The assessment will cover 9-10 core topics and will be divided by "strength area" and "growth area". These results will help prioritize our time together, along with your own personal goals.
My hope is that once you finish premarital counseling you have a clear sense of what to expect from your marriage, plus a comprehensive toolbox of skills and strategies to help you maintain a strong foundation with your partner. 
Family Therapy & Parent Coaching
Many couples struggle with issues related to their family life. How you parent together, the way you work as a team, your family values, and the types of relationships you want to cultivate with your children and extended family may all be an important part of our work together. 
My approach to family therapy is an Intergenerational Theory. I believe that change happens when the current family system understands how multigenerational and past family dynamics affect the current functioning of the system or family.  And I can help you by exploring generational patterns and help each member be heard and understood. It is my belief that if you can heal the system, each individual part will excel on its own through differentiation.  
Life Coaching
While I have a master's degree in marriage and family therapy and do offer more traditional therapy, I am also a certified life coach. My approach to life coaching is solution-focused and goal-oriented.
I know life transitions of any magnitude can cause friction and chaos in our daily functioning. I can help you navigate those difficult times by being a listening ear, helping you set boundaries and improve your problem solving skills. Breakups, divorce and/or the loss of a job can feel like the end of the world.
No fear! I am here to guide and support you through your time of loss and recovery. It is time to create positive goals for your future. I aim to increase personal growth through our work together, and set you up for success in the next chapter of your life.
Individual Therapy
If you're seeking therapy for a more serious situation (and live in my state of licensure, Tennessee) I can help you.  have a person-centered, non-directive approach to therapy that uses a blend of empowering solution-focused techniques and evidence-based cognitive-behavioral therapeutic interventions.
However, I know that you, like everyone, is a unique individual and so our work together will always be tailored to meet your specific needs and circumstances.  
If we work together in therapy I can help you with things like mindfulness exercises, psychoeducation, coping skills, identifying triggers and your support team. 
About Me
I earned a master's degree in Marriage and Family Therapy from Lipscomb University. I am a certified life coach, a certified PREPARE/ENRICH facilitator and is also trained in Emotionally Focused Therapy and ASIST (suicide prevention). 
Outside of being an awesome therapist and coach based in Nashville, Tennessee I am a wife and mother of 3 handsome young men. In our free time we enjoy board games and traveling. My favorite color is purple and I could eat Tacos 7 days a week, if allowed. My favorite quote and mantra is by Jack Canfield, 
"If we are not a little bit uncomfortable every day, we're not growing. All the good stuff is outside our comfort zone." 
If you're ready to get out of your comfort zone and start growing, I'm here to help. Get started by scheduling a free consultation with me.
There's more to intimacy than sex. Looking to reconnect, strengthen, or build a better bond with your partner? Online Marriage Counselor and Relationship Coach, Tomauro Veasley discusses the 4 types of intimacy that are imperative to a lasting, healthy relationship.
"Friendship breakups have multiple pain points and rationales for why it hurts so much. Unfortunately, we don't have many media representations of the "common" framework for this breakup type. Therefore, the hurt can be an unexpected reaction." – Tomauro Veasley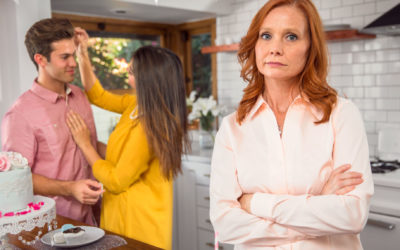 Adult Child / Parent relationships can be tricky to navigate when it comes to setting boundaries. Lines are often crossed, and enforcing boundaries (especially if you're married or have children) can be a difficult conversation to have with your parents or in-laws. Life Coach and Marriage Therapist, Tomauro Veasley shares her tips for getting the conversation started and sticking to what's best for you and your relationship!